Root Toshiba Thrive On Honeycomb 3.2.1 OTA ROM [US & Canada]
Toshiba Thrive gets rooted on HC 3.2.1! Earlier we covered a guide on rooting the Toshiba Thrive Honeycomb tablet, which was achieved by putting the tablet into fastboot mode. However, a lot of users upgraded to the official Honeycomb 3.2.1 OTA update that Toshiba pushed out, in the hopes that root will soon be made available. Well that wasn't the case, much to the users dismay, Toshiba had removed fastboot from the US and Canadian ROMs due to the addition of DRM for renting of Google Videos. Toshiba however was kind enough to offer a roll back, but that is not the answer. Tablet ROMs forum member dalepl and @Turnyourbackandrun from thriveforums.org have just released an automated script that will root your your device running the Canadian or US ROM in no time at all.
Update: The developer has uploaded a universal root tool for the Toshiba Thrive which will work on both the Canadian and US ROMs. Head over to the Thrive Forums for instructions and download links.
According to the developers: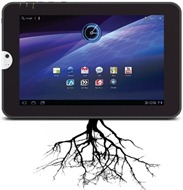 "This tool will put fastboot back into the recovery menu. It will then flash a root enabled boot image and ClockWorkMod onto the device. It will also install the su and busybox binaries along with installing the superuser.apk app. Finally it will create the simlinks required for busybox."
Disclaimer: Please follow this guide at your own risk. AddictiveTips will not be liable if your device gets damaged or bricked during the process.
Requirements:
OTA root tool for Canadian ROM (file seems to have been removed)
OTA root tool for US ROM (file seems to have been removed)
ADB drivers installed (Included in the root package)
Instructions:
To begin, download the root tool depending on your ROM, from the link above and extract the contents.
Connect your device to the PC via USB and make sure USB debugging is enabled.
Run command prompt and enter the following command:

adb devices

If it results in a device ID, the ADB connection is set up just fine.

From the folder where you extracted the root tool contents, run root.bat and simply follow the instructions on the screen.
That is it! For updates and queries, head over to the forum thread at Tablet ROMs for the Canadian ROM | US ROM.