Rooted Android 2.2 Froyo Ported To Desire (DeFroST) [UPDATE]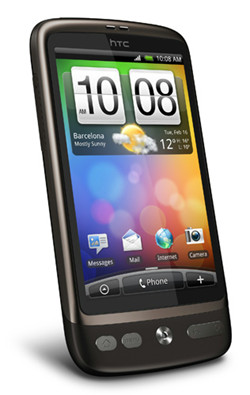 [Update: May 31, 2010]
Finally there is another build of this DeFrOsT rom, that has a functional Bluetooth and also all apps from the Market are now accessible. Previously ver 0.1 of DeFroST didn't possess these operations. You can download this new ver 0.4 DeFrost Full ROM here.  This version also doesn't require you to WIPE or Hard-Reset your Desire.
Finally a developer named richardtrip has ported the rooted Android 2.2 Froyo to HTC Desire, which he named DeFroST. It is a semi-working built for those who can't wait for their Desires to upgrade OTA.
Users might want to wait for the next version when most other features will start working but for now the good news is that you will have Wi-Fi, Data and MIC access with this version. It is not clear from the description whether radio is functioning or not but we presume that if Data is working, then radio should also be operational.
According to the ROM developer, these features will be in working conditions after installing this build.
Wi-Fi operational
Data Access Working
MIC is also in full functionality
8M RAM Hack Implied
Audio Modifications for loudness.
To install this build you will need to do a hard or factory reset. This is due to the fact that Froyo doesn't support partitions with ext. Also note that the developer has strictly advised against operating or using the camera, no specific reasons were given but for now we will take his word on this.
First off, download DeFroST 0.1. We will recommend only those Desire users should try this who have ample experience in loading and installing different ROMs. The exact procedure can be found on XDA-Developers thread for this particular ROM.
We previously reported a Froyo official update coming to HTC Desire on the 23rd June.
Disclaimer: AddictiveTips will not be liable in any case for any damages caused inclusive of device bricking.