Safari For iOS 5 Adds Private & Tabbed Browsing And Safari Reader
iOS 5 has been the hottest topic of discussion for a while now, with Apple boasting a bunch of hot new features and apps. One of those features, is the renovated mobile Safari Browser which brings some much needed functions to make browsing on your iPhone 4 & 3GS, iPod Touch 4G and iPad 1 & iPad 2 even more fun. So what exactly is renovated you ask? The new Safari browser now offers you tabbed browsing, private browsing, Reader, and the option to open a new tab in the background. So if you spent most of your time on your device surfing the internet and have grown tired of switching windows in Safari, iOS 5 has answered your prayers. Unfortunately, the tabbed browsing feature has been kept from the iPhone and iPod Touch, but hopefully Cydia will come to the rescue. Safari Reader is by far one of the most attractive features the browser has to offer and dare we say, it looks like the browser is on steroids. Reader is a powerful tool, which is a fancy way of reading your favorite web pages in a text and image format without the clutter of a webpage.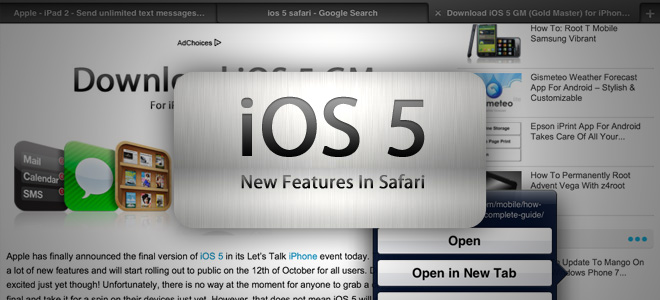 Private Browsing
For those in need of privacy on a device that is accessed by others as well, Safari now allows you to browse in a mode that does not keep track of your history or cookies so that your internet activities on that device cannot be tracked. This feature is very common amongst famous desktop browsers such as the Incognito mode in Chrome, Private Tab in Opera and Private Browsing in Firefox. All you need to do is open the Settings app, select Safari and enable Private Browsing as seen in the screenshot below.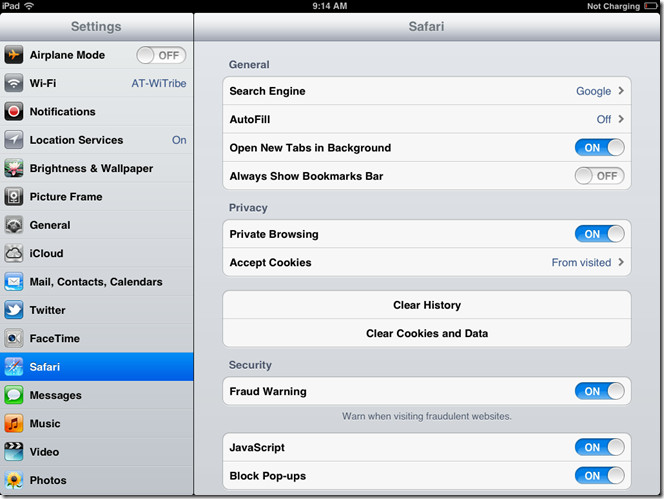 Tabbed Browsing – New Tab In Background
Like we said that this feature is only available for the iPad 1 and 2 and while the iPhone or iPod's exclusion could be understandable given the screen size, it should've been left to the end users whether they want the tabs or not. Well suited for the iPad, the tabbed browsing feature is then aptly backed up by the option to open a new page (tab) in the background. Simply put, you do not have to leave the current page you're viewing anymore as you open a new link.
The tabs, like in a desktop based browser can be rearranged as well by holding and dragging.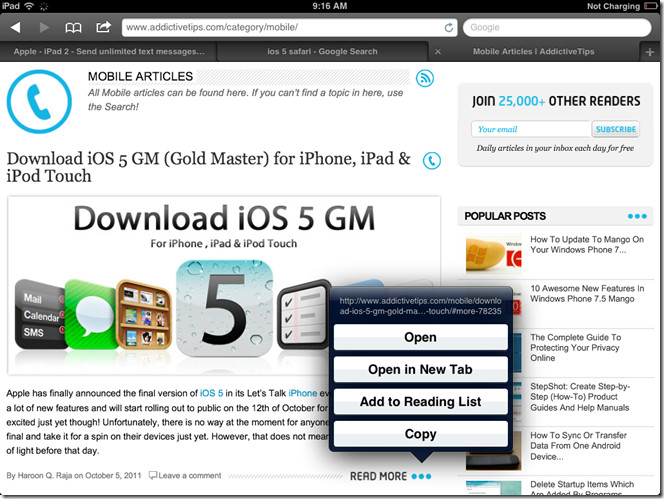 Safari Reader
Reader is a very handy feature that arranges the webpage in question in a mobile format removing all the clutter and visual theming of that webpage allowing you to view the webpage in a text and image format only. Even better you can also add webpages to a reading list pretty much like bookmarks. To enable reader mode, simply hit the reader button as seen in address bar in the screenshot below.
Once in reader mode, you have two preset font sizes you can toggle between, normal and large. To leave the reader mode simply tap the page in the background and you will be back to the original page.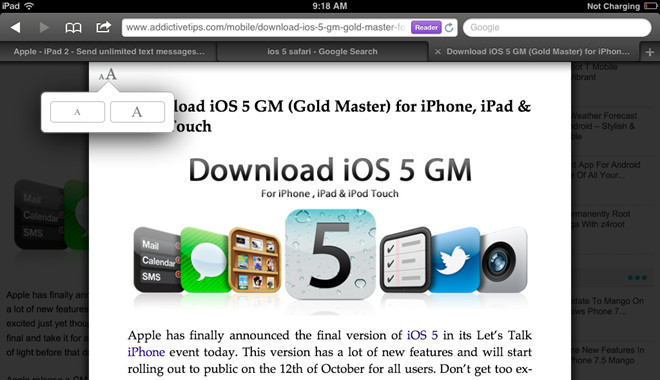 This sums up the new features that the new Safari in the iOS 5 contains for now.
---
This guide is part of the 10 new features in iOS 5 – the latest operating system from Apple for their iDevices.
New Features in Safari Browser (Currently viewing)