Samsung Galaxy Apollo Specs And Price
Samsung has just tagged one of it's Android phone as "coming soon" on Samsung UK website. This phone resembles M100s Android phone, which has been already released by Samsung in domestic Korean market. This latest device is dubbed as the Samsung Galaxy Apolli, and seems to be targeted at the mid-end market. More information including detailed specs and expected price after the jump.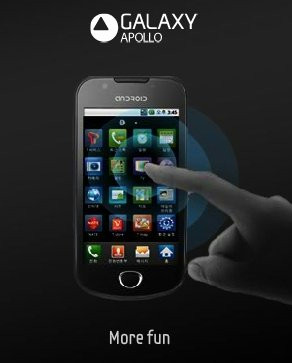 With the Android handset market booming over the past few months, we are continuously seeing launches of phone after phone, by several manufacturers. Samsung seems to be on the tail of HTC to capture the title of the leading Android manufacturer, capitalizing on its Galaxy series of Android smartphones. The latest device in Galaxy series is Samsung Galaxy Apollo – apparently the international version of the Korean M100S.
As per our sources, the expected specs of Samsung Galaxy Apollo are:
3.7" Touch Screen
Android 2.1 Eclair OS with customized Samsung TouchWiz UI
5 Mega Pixel Camera
Wi-Fi 802.11 b/g/n
700 MHz processor (Speculated)
G-Sensor
Accelerometer
Proximity Sensor
As per the specs, we can well imagine that this phone will be able to grab some quick market share from the mid-end users as soon as it is released in the UK and US.
The international release date is yet to be known and our sources reveal that this phone will be price tagged between USD 200 to USD 300, and may also be available with carrier plans quite likely.
We will bring you further updates as soon as we get some official word from Samsung on release date and price of the device, so stay tuned!