SaveMeeting For Android: Record/Share Audio & Speech-To-Text Transcripts Of Meetings
Want to share the transcripts or audio recordings of a recently concluded business meeting with your colleagues? Why not do it with SaveMeeting – a cross platform mobile app that lets you easily record and share the audio, transcriptions (speech-to-text) and other details of your meetings right from your device. All recordings are automatically uploaded to the SaveMeeting cloud, thereby helping you as well as your colleagues to instantly access shared data anytime and from anywhere. Each recording is listed under a meeting date specified on calendar that can be accessed via the company's website. Initially released as an iOS-only app, SaveMeeting has just made its way into the Android Market.
SaveMeeting is an effective way of sharing details of all your meetings, complete with audio recordings and their transcriptions, to-do lists, number of attendees, work file attachments et al with any colleagues who couldn't make it to the meetings. All recordings along with relevant details are stored locally as well and can be accessed from within the app.
To start using the app, you must be logged in with a valid SaveMeeting account. You can sign up for a new account from within the app. To record a meeting, all you need to do is tap the big red record button at the center of the app's homescreen. The app prompts you to pick a meeting date from the calendar under which you wish to upload all data. In case you don't have a meeting scheduled on the calendar, tapping the record button will automatically add one for that particular day.
The screen that follows features pause and stop buttons to control the recording and additional controls that let you record/add new transcriptions, set audio marks for various meeting phases (such as the start, introduction, conclusion etc.) and to create a new to-do list, complete with a description, mail recipients and start/end dates.
All the aforementioned modifications can be made while recording is in progress.  As long as recording continues, you can view its progress in the notification drawer. Although there is no restriction on the number of transcripts that can be added, each individual transcription can be recorded for a maximum of 30 minutes (by default). While you can listen to the audio of each recording from within your device, the transcripts can only be viewed on the website.
After a recording is completed, you must provide various details about the meeting, such as the Title, Project, Location, number of Attendees (from your mail contacts) and all mail recipients. Once all the details have been added, just tap the save button (floppy disk icon in the top-right corner of the screen) to upload the recording to cloud. Remember that only registered SaveMeeting users have access to all shared content.
On the configuration front, you have the option of modifying various transcription settings, such as transcription type (automatic, manual, in 5-minute splits or hybrid), language (English/Spanish) and the default audio marks.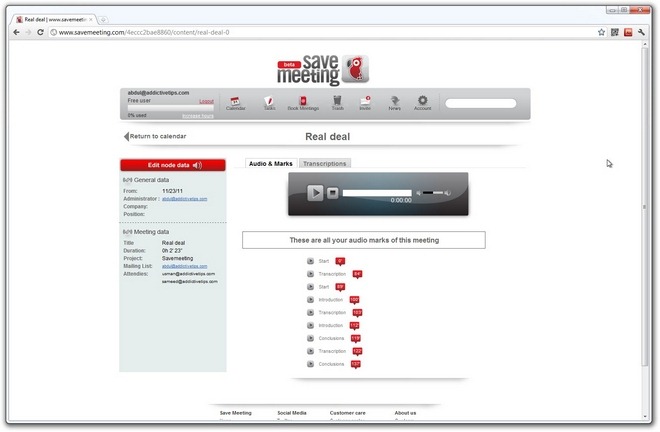 All in all, SaveMeeting is handy for users who are looking to keep a record of all their meetings –whether business or casual – via recorded audio and all the miscellaneous details that can be attached with each. Although the transcriptions feature seemed to work flawlessly during our brief test-run of the app, its effectiveness can be best determined when used in a real meeting. For optimum results (of recording as well as transcription), it is recommended that the meeting take place in as peaceful an environment as possible.
Download SaveMeeting for Android