Screen Capturer: Screenshots Come Back To Unlocked Windows Phone Mango
If you look at the Miscrosoft's feedback page for Windows Phone 7, you will notice that screenshot support is in the top 10 demanded features. While the screen capturing utility was available for unlocked Nodo devices, Mango rendered those homebrews useless. Nevertheless, the developers aren't asleep just yet, and now, it is possible for Mango users having developer-unlocked devices to take screenshots on their phone using the tool named, rather simply, Screen Capturer.
Mango not only introduced some awesome new features in WP 7.5, but also brought hierarchal unlocks with it. Now, you can have a high-level inter-op unlock, or a simple developer unlock. To use Screen Capturer, all you need is a developer unlock. To get that, one of the methods is flashing the DeepShining ROM to your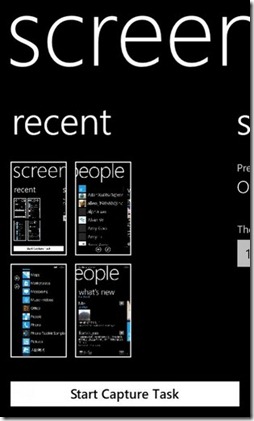 HTC phone, or have an officially-unlocked device. If that's the case, then simply download the Screen Capturer XAP file and flash it to your device. Once you have it deployed, using the homebrew is simple.
Launch the app after you have flashed it.
Hit "Start Capture" and the app will become active.
Within the time period you specified in the settings menu of the app, navigate to the destination of which you want to capture the screenshots.
Every time you hit the camera button, the screen that's on currently, will be captured.
The results will be stored in the Pictures hub, and it must also be noted that Screen Capturer can take screenshots of everything on your Mango phone, except videos and games.
You can get the tool at the link given below.
Download Screen Capturer (XAP)