Secretly Use Twitter On iPhone In Office Or School With CovertChirp
iOS is, in no way, short of high quality, feature rich Twitter clients. Even the official app is among the best ones, offering seamless integration with the micro-blogging platform, and sporting an elegant interface. It begets serious thought, then, when we decide to review another Twitter app for iPhone, iPod Touch and iPad. CovertChirp, the app in question, however, offers something quite different when it comes to Twitter. It conceals the entire Twitter experience in an iOS-native Notes-like interface, making it ideal to use the social network where others won't appreciate it should you be caught, viz., offices and classrooms. Read past the jump for details on this refreshingly stealthy approach towards Twitter.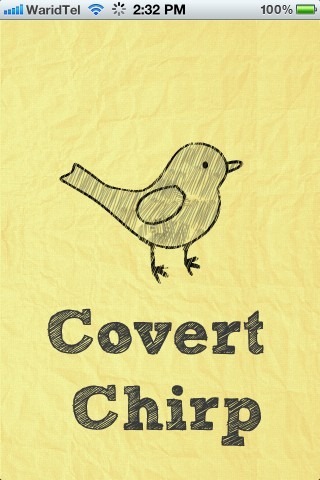 The aim behind CovertChirp is to let users explore Twitter in classrooms and offices, where their bosses or teachers won't approve of this 'extra-curricular' activity. While we don't support such activities, I personally found the app highly attractive for the different approach it takes. The interface is exactly like iOS native Notes app, and well thought out. The first launch of the app will require you to connect it with your Twitter account and authorize it.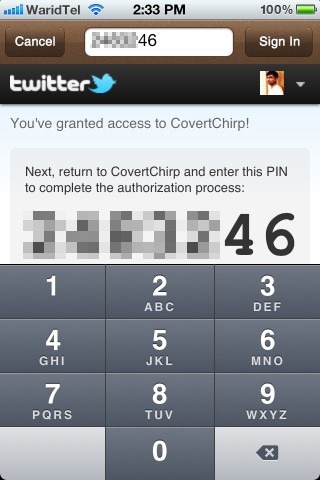 With that out of the way, you'll go through a short tutorial on how to use the app, which will explain everything it has to offer. The first page that loads is the "business jargon" that will help you conceal Twitter with some official, technical looking jargon, making it seem like you're taking notes instead of browsing through your timeline.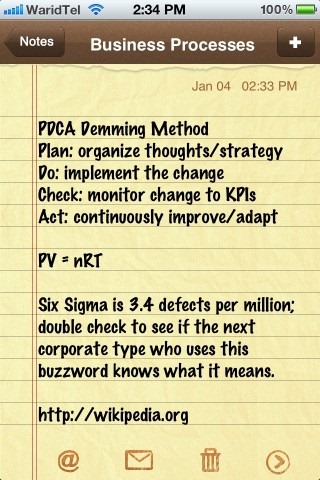 The app, as seen above, has four buttons at the bottom, and two buttons atop, much akin to how Notes look in iOS. To visit your timeline, hit the arrow button at bottom right, and the view will change, loading your Twitter timeline in a similar, Notes-like interface. The @ and Envelope buttons, as you might have guessed, take you to your Mentions and Direct Messages, respectively, while the trash can will simply load the jargon page again, so we'll call it the "boss button."
To make the concealment even more effective, timeline is loaded with a title of Action Items. This approach is followed when you want to send out a new tweet, which can be done using the + sign at the top-right of the app's interface. The new tweet screen gets the title New Notes, concealing your true intentions. The Notes button to the left, on the other hand, takes you to the account management screen, where you can add more Twitter accounts.
In all fairness, CovertChirp is a very basic Twitter client that is meant to just 'get the job done' where you don't want to reveal your true activity. In my personal experience, the app cannot serve as a replacement for your favorite Twitter client just yet, but let's see what the developers have hidden up their sleeve with respect to new features, one of which could be support for push notifications. However, the absence of said feature might be intentional and part of the guise. CovertChirp normally costs $0.99, but has gone free for a limited time, so grab it while the offer lasts. If nothing else, you'll definitely enjoy the new approach towards how your Twitter activities are laid out.
CovertChirp is compatible with iPhone, iPod Touch and iPad, running iOS 4.0 or above.