See Each App's Memory Consumption On WP7 Using appSiege [Homebrew]
Each app in the Windows Phone 7 Marketplace displays the amount of memory space it will occupy once you install it to your Mango phone. Most users, however, have so many apps on their WP7 that it becomes impossible with the passage of time to keep track of every app's size. You might go to the app's Marketplace page again to view the size, but that doesn't sound too intuitive a method. The overall status of your phone's memory usage can be seen in the about section of Settings, but it is far from seeing how much memory is taken up by each app. In addition to all that, the size of each app on your phone's disk keeps on increasing with the passage of time, as you start storing extra data in it. As Windows Phone 7 devices do not support external memory cards, every byte of storage space might prove to be vital for a lot of users. So, for all these reasons, it is important to keep track of the individual memory usage of different apps. If you have an unlocked device, this problem of memory tracking just got solved. Enter appSiege, a useful homebrew that displays the install size of each app, as well as the memory the data associated with that app is occupying.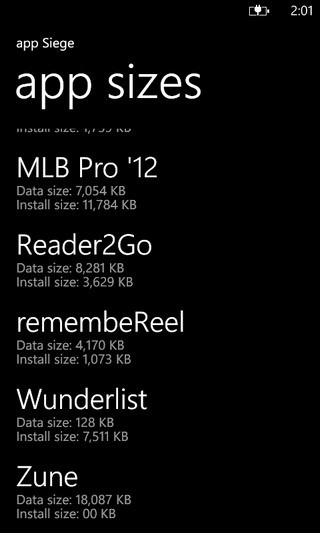 appSiege is reminiscent of the previously covered App Stat (for iOS). Like that app, appSiege shows a list of all the apps installed on your WP7, except the stock ones. The list is arranged in alphabetical order, and beneath each app's name there are two fields. The first, and more important, field shows the data size of the app. This can come in really handy for apps which handle other objects, like book readers, and keep accumulating more and more data with time. In such cases the app's Install size will remain the same, but Data size will keep increasing, and by adding the two quantities you can find out how much memory the app is actually eating up.
Other than the third-party apps, appSiege has an entry marked as Zune. This area shows the storage taken up by data other than the app list displayed above it. The app might come in handy on a number of occasions, specially if you are running out of space on your unlocked WP7. For further details, and to grab the XAP file, head to the link below.