Send Notifications / Alerts From Android Phone to Desktop PC
Working constantly on computer? Don't have time to pick up your Android phone to see notifications every time they arrive? Well, there is a quick solution to that. Android Notifier sends notifications right to your desktop when new ones arrive. You don't have to look at your phone when you're busy working. The best part about Android Desktop Notifier is that it supports transferring notifications from your mobile device to computer over a number of mediums, including USB, Bluetooth and Wi-Fi.  Likewise, if you have your headphones on, or the device is resting in another room in your house, you need not worry about missing out on some important notifications, since Android Notifier Desktop will do it all for you by itself.
Before we get into anything, desktop application for this Android Notifier app is required for your computer. Download Android Notifier Desktop application for your PC, Mac or Linux (link provided at the end of this article). Complete the installation process which will hardly take couple of minutes.
Notifier icon will appear on your taskbar. You can right click on it and hit preferences to adjust what notifications you want to appear on the desktop, i.e. call, SMS, MMS, battery, voice mail, ping and third party which includes notifications from other third party applications installed on your phone.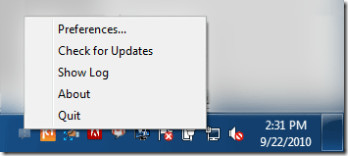 If you are Growl user on PC or Mac, you can set your notification display method to Growl.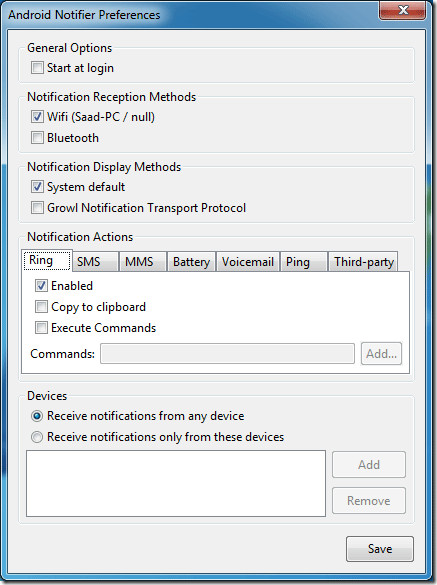 While on the phone, you have a number of settings similar to that on the desktop application. You can control notification service, methods and events. Another great added feature of this application is that notifications can be sent via Bluetooth.
By simply hitting the show notification icon from miscellaneous section, you wont have to go through the process of clearing all the notifications since nothing will be shown on the phone while this remote notifier is running.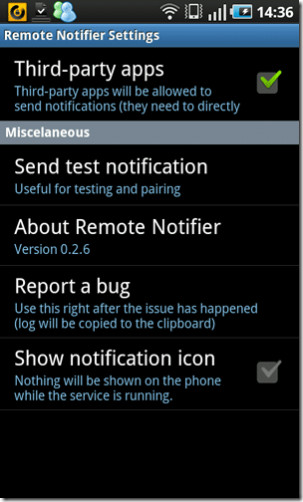 A great application to save you time while staying in touch with your upcoming notifications without going through the process of handling your phone again and again. On the contrary, we will recommend changing the mode to custom IP address when in office to prevent notifications from being to send to everyone who is running Android Notifier Desktop.
This app was successfully tested on Samsung Galaxy S / HTC Desire and Windows 7.
Remote Notifier is an absolutely free app that can be downloaded from the Android Market via the link provided below.
Download Remote Notifier For Android