Set Location-Based Reminders On Android With Geo Reminders
Setting date and time based reminders on mobile devices is old news. If you own an Android device, then with Geo Reminders Lite you can move a step further in utilizing your device to the full. The freeware allows users to add multiple locations, each with its own proximity radius which, unlike that in Imcoming, doesn't have to be equal to or greater than 1 mile.  The application keeps running in the background, waiting for the device to come within the specified range of a saved location, in the event of which, it alerts the user with a notification. So if, for instance, you keep forgetting to refuel your car on your way back from work, all you need to do is save a reminder for a nearby gas station on your Android device using Geo Reminders.
The interface is very straightforward. Pressing menu on the main screen displays the Add New Location option. Tapping said option will bring up a form wherein users can specify the desired location either manually via Google Maps (Pick location from map) or automatically, using current GPS coordinates (Use current location). To save a location while pointing to it manually from the map, press the menu button on your device and tap Save.
Once a location is saved the application begins to wait for the device to come within the defined proximity of a saved location, all the while displaying the distance of the device from each location.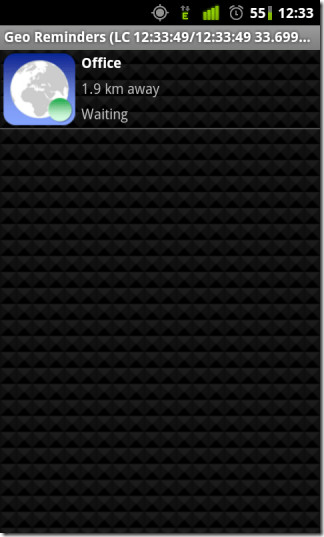 When the device is within range of a particular location, a notification is displayed in the notification bar as well as within the info below said location.
The Lite (free) version will only show the reminders in the notification bar. Future updates will bring reminders via SMS, email and audio, as well as in the form of Facebook updates. These features will only be for the paid version of the app which costs $0.82. You may install Geo Reminders Lite via the Android Market using the link below or by scanning the provided QR Code.
 Install Geo Reminders Lite
Update: Geo Reminders Lite is no longer available in the Google Play Store. However, you can check out our comprehensive review of LockIEBuzzr, another handy location-based reminder app with multimedia notes support. As explained in our review, LockIEBuzzr is all about setting reminders and notes based on a location of choice. In addition, it lets you tag select locations for quick recall, specify geo-fence for your reminders and define your reminders under custom folders/ categories.