ShopSmart: Discover & Manage Shopping Deals / Discounts On Your iPad
Billeo's ShopSmart is an app exclusively made for the iPad which lets its users keep track of all the discount deals available at places where they shop, and also helps in managing the reward points or cash-backs you might have become entitled to. It could prove to be a difficult endeavor trying to remember exactly how much you will have to buy from a particular store before you can get something for free. With ShopSmart, you are freed of all such worries, as it will keep track of such records and notify you of the latest deals from places near your location.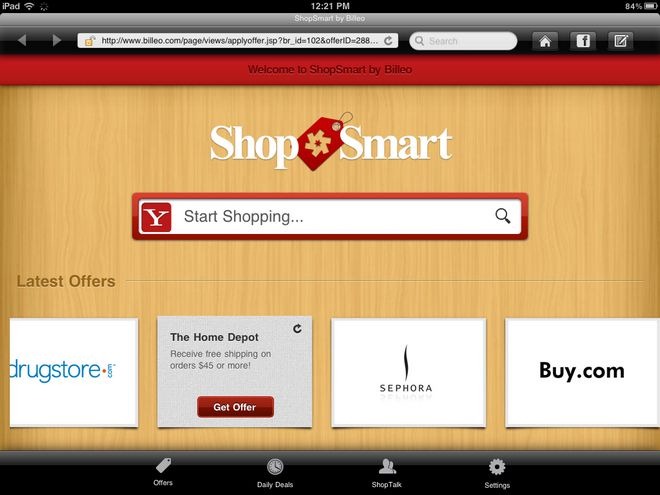 The app is basically a browser of sorts, with added functionalities. When you download it, there is the initial age restriction warning, but that's only because the app is browser-based. You can use the app without creating a ShopSmart account, but to get the most out of it, and to integrate your purchases with eWallet, you need to register for one. Below the Yahoo-powered search bar on the homepage are displayed the Latest Offers from a number of shopping destinations. Tap on a tile and it will flip over to reveal the offer it is currently offering. Tapping on Get Offer takes you to the product page where you can order anything and even pay for it from within the app.
Shop Talk is a feature of the app that allows users to communicate with their friends and discuss the latest purchases they have made. You can also share your new finds and shopping lists on your Facebook wall.
ShopSmart has a number of discount providers (such as GroupOn), but if you don't find a provider you frequently use, there is an option within the app's settings that allows you to add any source to it. To add a new source, go to Settings and select Offer Providers. This menu also lists the options to change your default location and customize the way offers are displayed for you. Last but not the least, you can set your home address in the settings to get direct deliveries from whatever providers are in your region.
The app itself comes from Billeo and so, of course, offers deep integration with the online payment and password management service.
ShopSmart is available for free on the iTunes App Store. Link to its download page is provided below.