Shoptimus Is An Intelligent Virtual Assistant For All Kinds Of Shopping [Android]
Sporting a polished and intelligently-crafted user interface, Shoptimus International is a free Android app that brings you the latest shopping deals from some of the leading online merchants, including Kmart, Shoes.com, Target, Abt Electronics and Sears. Be it the latest electronic gadgets, home appliances, products for men, women and kids, or any daily-use commodities, using Shoptimus International, you can explore a wide array of consumer products from across all supported online stores. The app offers you various filters that you can utilize to narrow down your search criteria, listing only those products that meet your liking and budget. While browsing various online stores, you can also add the required items to your wishlist on the go, or head over to the retailer's website to instantly place the purchase order. That's not all; the app also supports voice-enabled search, as well as real-time search suggestions, to help you instantly search for items of interest from required outlets.
By default, the app opens to the Electronics products tab. However, swiping towards the left lets you navigate to the other supported segments to look for only the men, women, kids, house or other products of common use.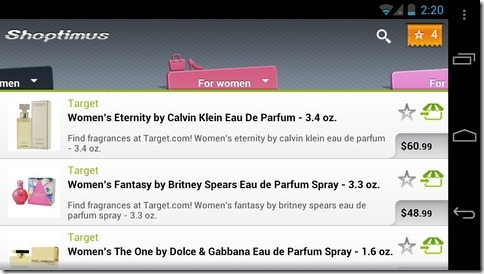 Each individual tab sports a dropdown menu that lets you select another relevant product subcategory falling under that particular one. For instance, the Electronics tab lets you list out only the PDAs/phones, cameras, TV, computers etc. Similarly, the For men tab lets you browse through the men's clothing, shoes, costumes and other male products. In the same manner, the Goods for House tab can be used to display party products, home improvement items, hardware tools, outdoor products et al. The same applies to the kids, women and the Other (miscellaneous) category, too.
Items falling under each aforementioned subcategory can be viewed in a couple of ways. What you get by default is the list view, complete with the current price tag of each listed product, the direct purchase link and the favorite button. Using the pinch-to-zoom gesture on this screen, you can switch to grid view. The search bar at the top lets you manually (and vocally) search for the required item, whereas the bookmark tab beside the search button displays the number of items that you've added to the wishlist.
Once you've selected the required product category, you can filter the underlying products further in various ways. For instance, using the available filters, you can specify the preferred price range of the product you're looking for. In addition, you may also specify other attributes, such as the item color, size, brand and other relevant subcategories. To view an item's details, add it to the wishlist, or go to its online order page, just tap its photo.
Shoptimus International is available in the Google Play Store, and requires Android v2.2 or higher to run.
Download Shoptimus International for Android