Smaart-Friend-Finder: Make New Friends Near Your Location [Android]
Smaart-Friend-Finder is a free location-based socializing app for Android that lets you easily trace and interact with online users all over the world who are using the app. Smaart-Friend-Finder, with the help of GPS, displays your friends and other nearby users on a map and allows you to send them instant messages and plan a hangout with them. With Smaart-Friend-Finder, you can send invites to your friends via SMS, email, Facebook or Twitter.  Details, screenshots and download links of Smaart-Friend-Finder to follow after the break.
Finding and tracing people with Smaart-Friend-Finder is extremely easy and fun. The unique concept used by Smaart-Friend-Finder to display all the online users on the map through colored markers (pins) helps you easily trace your loved ones and find new friends in your vicinity. While the red pin displays your own location, the green ones indicate your online friends while the blue ones, other online users.
Upon launch, the app automatically finds and displays a list of all online users connected with Smaart-Friend-Finder through the People tab. Tapping on a user's name displays his/her detailed info such as name, location, distance (from you), phone number, email address and gender. You can interact with users via messages, check their current location on map, send them an invitation via message/email and call/text on their cell phone number. To add a user to your friends' list, simply tap on Menu > Save to Contacts. Once you make friends with a particular contact, his/her name is automatically colored green (on the map as well as within the app). You are alerted of each received message via status bar notifications.
The map can be modified to display all users or just your friends. To display only your friends on the map, tap on Menu > Filter > Friends. From the Me tab, you can manage your profile, set your status, manage your visibility (to be seen by all or only by the people within the specified area), specify location by placing a flag on map to find friends or simply specify the distance (on slider) to find friends within a specified region or from all over the world. Tapping on your nickname on this screen, takes you to another screen from where you can easily manage your profile in detail.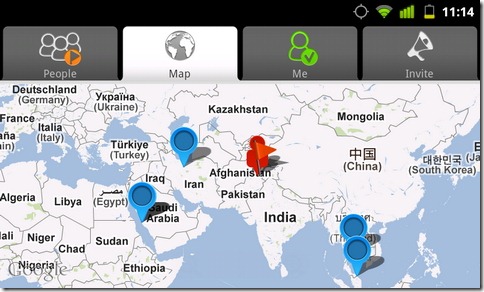 You may grab Smart-Friend-Finder for Android form the Android Market link provided below. Check out app's official video intro (provided below) to get an idea about how it works.
Download Smaart-Friend-Finder for Android
Update: Smaart-Firend-Finder is no longer available in the Google Play Store. However, What's Shakin' is another nifty little proximity-based social networking app that lets you befriend new people in your vicintiy.