SMS Corrector – Automatically Correct Incoming Text Messages [Android]
Annoyed of receiving ridiculously puzzling and poorly spelled SMS messages? May be you need a doze of SMS Corrector – an Android app developed by an XDA member that corrects poorly articulated incoming text messages and (even) translates them to a language of your choice. The app is unique and amazing in the way it seamlessly converts abbreviated and/or misspelled words in each received message. This helps the recipients to understand the purpose of the message in a much better way as all the 'junk' portion of the text message gets replaced by the corrected version.
Another commendable feature of SMS Corrector is its ability to scrutinize and filter through all the incoming messages and make the necessary amendments in only those messages that contain some sort of dubious wordings or abbreviations. SMS Corrector can add all the corrections (if any) directly into the original message, replace the original message with its corrected version or display the corrected message as an altogether separate message as per your convenience. The screenshot below presents the ideal demonstration of the app's working. As evident from the picture, the app automatically converts the term 'Hi' to 'greetings', 'bro' to 'brother' and 'LOL' to 'lots of laughs' etc. Not just that; the SMS Corrector also managed to successfully interpret several other messages that we threw to it during our brief test run of the app.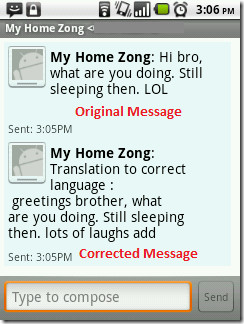 The configuration menu allows you to enable or disable the SMS correction feature in your device. You can also configure the App in a way so that it display the corrected words in uppercase for your convenience. By default, the app has built-in support for multiple languages (French and English). However, it requires an internet connection to retrieve translations of messages written in languages that are not listed in the app's database.
You can also add as many 'bad' words (along with their corrections) in the database of the app and it will automatically replace them with the corrected ones. Also, the 'tolerance' feature of the app is fascinating in its own regard. Through this feature, you can select the number of mistakes in a received message to be corrected by the app.
The trial version of SMS Corrector expires after correcting a couple of messages and prompt you to buy the full version of the app. Once you upgrade to the full version of SMS Corrector, the advertisements would vanish – quite thankfully. Also, the full version enables you to display an editable 'introduction message' before the corrected message.