SnowDeer Web Scrapper: Capture Snapshots Of Entire Webpage On Android
There are plenty of screen capturing tools available to Android users. Apps such as Screenshot (by Kastor Soft), ShootMe and ScreenCaster & Recorder are just a few renowned names that instantly pop up to mind. That said, all apps belonging to the aforementioned genre are effective if you wish to capture still images of just the currently displayed screen. What if you were to capture an entire webpage on your Android without going through the hassle of grabbing and stitching/combining multiple snapshots to achieve said purpose? This is where SnowDeer Web Scrapper steps in. Sporting a simple web-browser style interface, the app lets you instantly capture snapshots of an entire webpage that you're currently browsing. Not only can you specify a destination directory of choice for scrapped images, but also set a user-defined filename for each. In addition, the app lets you save each image in high quality JPEG or PNG format, and supports a native image gallery that contains all the captured images.
In all, the app's interface is comprised of an address bar (to cater to the user-defined URLs), a quick-jump explorer bar/tab to access the app's image gallery, a browser area that displays the currently opened webpage, and most importantly, the SCRAP button that you can tap at any instance to save a snapshot of the required webpage.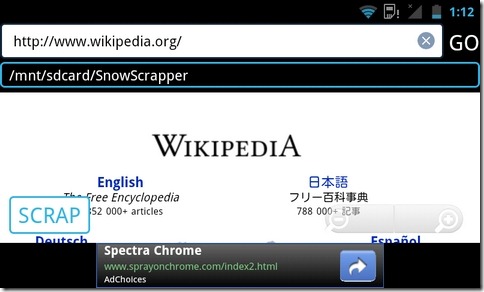 Using the app is as simple as it sounds. Just feed in the required URL in the address bar, and once it loads completely, hit the SCRAP button, and TADA! The snapshot of that particular page is now saved as a still image. By default, the app uses the SnowScrapper directory on your SD card to store images.
However, you have the choice of creating/selecting a different subdirectory to store images pertaining to a specific project. For this, all you need to do is hit the file explorer bar (just below the address bar), and select a folder of your liking. Tapping the plus (+) icon on this screen lets you create a new folder. To set a different folder as the default destination directory for captured images, just hit its icon, and press the Scrap to here button at the bottom. Apart from listing all the user-created folders, the explorer screen also displays thumbnails of saved images. Tapping a thumbnails reveals the image in full screen, with option to zoom in/out as required.
From the app's preferences screen (tap Menu > Settings), you can hit the Set file extension option to specify the default image format for captured photos, enable/disable High quality mode, and select whether you wish to rename each captured image manually or automatically. The best thing about this app, in particular, is that it supports integration with other web browsers (such as Dolphin HD & Firefox etc.), and can be initiated through the page sharing option from within a browser of choice. The end result; the webpage in question gets opened directly through SnowDeer Web Scrapper, and can be 'scrapped' as an image file with just a simple tap.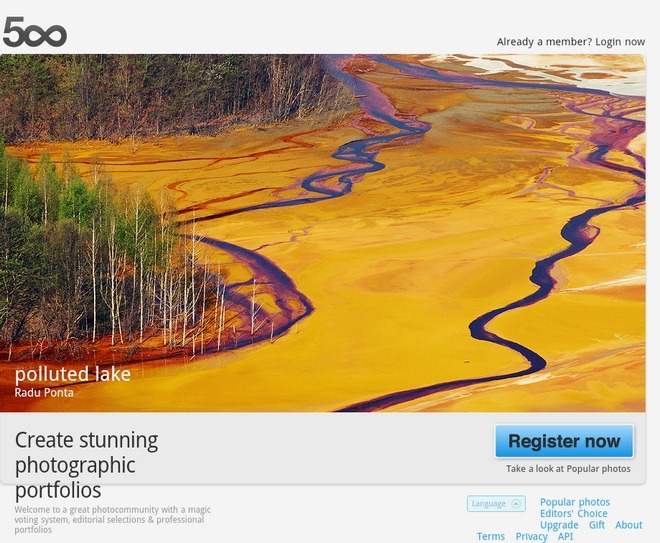 During a brief test run of the app, we managed to grab high quality full-screen images of quite a few webpages of interest. We must admit that the effectiveness of the app, along with the quality of output images, was quite commendable. However, it must be mentioned that the app currently supports capturing images in portrait orientation only (even if you tilt the device according to the landscape orientation), which means that for extensively larger web pages (effectively, their snapshots), you might have to zoom in a bit further to get the image's content read clearer.
Apart from that, SnowDeer Web Scrapper is a handy tool for all those who're frequently required to grab snapshots of an entire webpage for various projects and assignments.
Download SnowDeer Web Scrapper for Android