Spreaker Radio For Android: Listen To & Broadcast Live & Recorded Podcasts
Spreaker is an interactive online radio broadcasting service with a touch of social networking. The web service lets you record, personalize and air your audio recordings, and share them on your favorite social media. You can also listen to podcasts by other users, and start following your favorite ones. To let you broadcast on the go, Spereaker released a smartphone client for iOS by the name of Spreaker Radio about a month ago. The client is now also available on the Android Market. Using the mobile client, you can start broadcast or listen to live/recorded podcasts right from your mobile device. The app lets you save recordings as individual episodes that can be broadcast later.
Spreaker Radio provides you with an ideal platform to broadcast, say, the proceedings of a social gathering, a concert, or promote your amateur singing skills over the web. But that's just half of the functionality that the app provides. By providing you access to thousands podcasts shared on the website by other users, the app ensures that you're never short of infotainment.
To start using the app, you must log in with a Spreaker account or your Facebook ID. The app's homescreen carries various buttons to let you Browse Live Podcasts, Browse Podcasts (recorded ones), start your own Broadcast (live or recorded), and check your personal Spreaker profile.
You can browse podcasts according to the location from where they are being or have been broadcast, or their popularity among fans. For each podcast entry, you can view the details of the user who created it, its location, number of times it has been played and the total number of followers it has.
Tapping on a podcast plays it in the app's native player , which supports playing podcasts in the background. From within the player you can check out his/her Spreaker profile or choose to start following the user whose podcast you are listening to.
To start your own podcasts, all you need to do is tap the Broadcast button on the app's homescreen, and decide whether you want to start a Live Broadcast, Record Episode (for broadcasting later on) or broadcast a Saved Episode.
While each live recording can last for a maximum of 30 minutes, the Record Episode option lets you create up to 1 hour long audio recordings. As the app tells you itself, podcasts (both live and recorded ones) take a while to become visible on the network.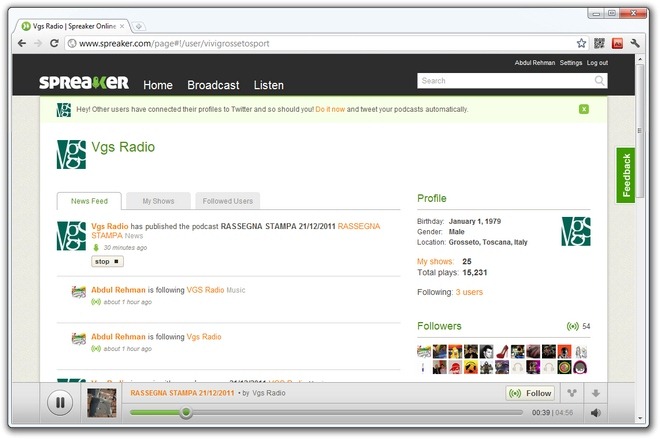 The You tab on the app's homescreen lets you view your Spreaker profile, complete with account info, followings, followers and number of podcasts.
Download Spreaker Radio for Android