ssLauncher: Highly Customizable, Metroish Home Screen Replacement App For Android
ssLauncher is a highly customizable multi-lingual homescreen replacement app for Android that takes after the WP7 Metro interface. Apart from letting you personalize its layout to the very core, the launcher provides you with a few built-in layout templates (including one that mimics the Windows Phone 7 Start screen, complete with customizable tiles), and lets you create and save your own, filling each up with personalized shortcuts and widgets of your choice. In addition, you can customize the sliding or page-flip transition effect that appears between the launcher's many homescreens, one of which is the app drawer. You can also import and set any fonts of choice, and alter every single homescreen in several different ways.
It's been quite a while since we last came across a homescreen replacement app of note, but with ssLaucnher, Android users now have yet another means for interface customization. Although the launcher has been designed to work on devices running Froyo (Android 2.2) or higher, it didn't seem to be sit all that well with our Galaxy Nexus (or its native resolution); the transition effects between screens seemed very choppy, to say the least. However, on an HTC Desire Z running a Gingerbread-based custom ROM (CyanogenMod 7.1), ssLauncher worked flawlessly.
By default, the launcher is divided into separate screens for Home, Applications, Contacts, Bookmarks, frequently required apps (Hot!)  and a Credits page. However, as mentioned earlier, you have the choice of tweaking the entire layout of the launcher as required. In this regard, you can tap Menu and select whether you want to add a brand New Page, Edit Current Item (page contents), Remove Current Page, Rearrange Pages or Modify Label Fonts & Styles.
Long-pressing an icon within the app drawer reveals a context menu with options to choose a custom Icon for the app, add it to favorites, Hide it, check its Details or Uninstall it from the device. Dragging an app icon, contact or bookmark to a vacant spot anywhere on the homescreen brings up a list of predefined styles for its shortcut. You have the choice of scaling shortcuts and repositioning them in whatever order you wish, one over the other, or side by side. The launcher is, however, yet to incorporate support for creating folders and groups.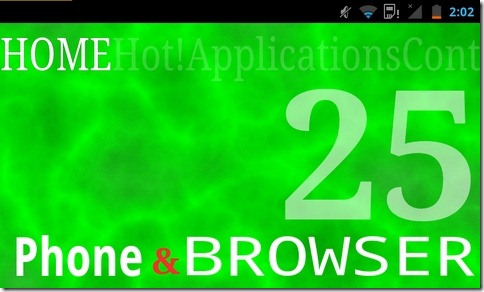 Tapping Menu > Preferences lets you access the launcher's main settings page from where you can decide on the default screen Orientation and language. To tweak the layout of each individual page, hit the Page Settings option at the bottom of this screen. Said screen lets you specify Grid Width/Height, update duration and several other options for a selected page.
ssLauncher sports a comprehensive theme management feature (Menu > Themes), using which you can save and load your own themes, define the default Animation and customize its speed, type and effects, specify Label settings, text size, icons, font for the entire theme and Background images for pages, popup menus, dock and even shortcuts!
Needless to say, the launcher packs enough features to keep you entertained with hours of customization fun. If you're into that sort of thing, take it out for a spin by yourself, download it from the Market link or QR code provided below.
Download ssLauncher for Android