StackPad: Design Wallpapers & Photo Collages For Your iPad
Many people (read: Android users) label iOS as boring, and say that they can't imagine how people go on looking at the same homescreen day after day. It is true that the level of customization offered by Apple's mobile platform might not be as thorough as Android (specially if you don't have access to the Cydia store), but you might be surprised at how much different things can appear to be just with a change of wallpaper and Springboard background. However, finding wallpapers that fit your needs perfectly is no easy task, and that is why an app like StackPad can prove to be the perfect thing for your iPad. Using StackPad, users can create a collage of photos, overlaid on a customized background, and then make changes to the whole mix in any way they want. Sounds like fun? Read on to know more.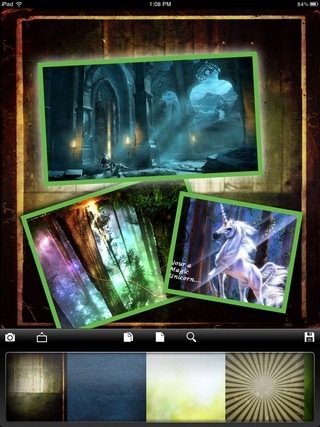 To create a custom wallpaper using StackPad, you have to choose a background image first of all. The app has a nice collection of background textures, which can be chosen from the bottom bar in the main screen. If you want to use a custom image as background, tap the second button in the bar, and select the required photo from the camera roll of your iPad. After the background is set, you can start adding photos to the main image. There is no option to snap photos straight from the camera and then use them in the app's collage, as it only has the loading option.
After completing the import of all the photos, users have to adjust the position of images by dragging them around. It is also possible to rotate the pics using two fingers. If you are not feeling like doing any work and want the wallpaper to be created magically for you, there are randomizing options, which will let you rotate and place pictures at random positions. A similar option exists for adjusting the border width and color around each photo. When you are done with creating your masterpiece, use the looking glass button in StackPad to get a preview of the created wallpaper. If it is to your liking, you can tap the save button to export it to the camera roll of the iPad. When you do that, the app will automatically open a Twitter update box, with the link of the created wallpaper included, but if you don't want to tweet about StackPad, you can just hit the Cancel button and the collage will still be saved to the photo library.
StackPad recently went free for a limited time, so if you own an iPad, do give it a try by going to the link below.