StarBurst ROM For Epic 4G Touch With Advanced Power Menu Available [Guide]
Samsung Epic 4G Touch is perhaps the most popular Android dual core phone among Sprint subscribers in the US. The development community of this phone is relatively active than other Android phones as they were able to gain root privileges on this phone right after it was initially launched. Along with rooting the phone, the Epic 4G Touch developer community was also able to overclock the phone as well as ported ClockworkMod Recovery. Once ClockworkMod Recovery got ported on Samsung Epic 4G Touch, custom ROMs started to spring up on different Android portals and forums to enhance the user experience and to fully utilize the advantages associated with running custom kernel and / or root.
StartBurst is one such ROM for Samsung Epic 4G Touch that has been developed by PhantomHacker. Previous Custom ROMs for this phone stuck to keeping things stock. StartBurst, on the other hand, has changed the scenario by offering Advanced Power Menu, custom advanced Theming, Init.d Support, Ram Tweaks and Custom Lockscreen.
Here is the list of main features of this ROM for Epic 4G Touch: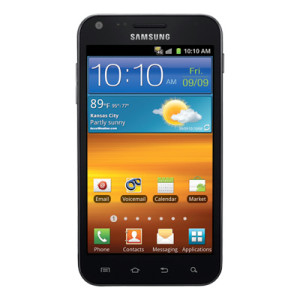 Pre-rooted, Deodexed and Zip Aligned
Bloatware Removed
Ping Optimization
CRT Screen off Animation
Overscroll Glow
Adfree Hosts
Battery Percentage Modification
Custom StarBurst Boot Animation
Boot Sound Removed
Here are the step by step instructions to install StartBurst Custom Android 2.3 Gingerbread ROM on your Samsung Sprint Epic 4G Touch:
Disclaimer: Please follow this guide at your own risk. AddictiveTips will not be liable if your device gets damaged or bricked during the process.
The first step is to make sure that you have root with ClockworkMod Recovery installed. You can flash the kernel provided here to get root, ClockworkMod Recovery and ability to overclock your device simultaneously.
Once you have ClockworkMod Recovery and root on your phone, download StartBurst Custom ROM for Epic 4G Touch from here and save it on your PC.
After this, connect your phone to the computer, mount SD Card and copy the downloaded ROM zip file to SD Card root.
Once you have the ROM on your SD Card, reboot your phone in ClockworkMod Recovery. In order to reboot your device in CWM Recovery, first power off your phone and then power it back on while holding the Volume Up key simultaneously with Home and Power button.
After you are ClockworkMod Recovery, scroll download Backup / Restore option and make a complete backup of your current system. Use Volume up and down for scrolling, home button for making a selection and power button to return to previous menu in Recovery.
Once you are done with making a backup of your phone, return to Recovery main menu and use Wipe Data / Factory Reset option to do the required wipe.
After this Wipe Cache from the option provided.
Once done, scroll down to Advanced option in recovery and Wipe Dalvik Cache from the resulting menu.
Now return to CWM recovery main menu and use Install Zip From SD Card option to flash / install the StarBurst Custom ROM zip file.
Once the flashing / installation is complete, reboot your phone normally using Reboot System Now option in recovery.
And there you go! If everything went as planned, then you will boot in your all new Startburst Android 2.3 Gingerbread ROM. In case you are facing any difficulty or need hands-on developer support, then head to the official XDA ROM thread posted here.