StartDial: Choose Default Menu On Launching Phone App In iPhone [Cydia]
Cydia is all about making the overall iPhone experience more efficient and productive for users. The developers strive to do that by working on every little aspect of iOS, and bringing something new to the table, no matter how small the change might be. StartDial is one such tweak, which is all about giving you more control over your iDevice. It makes the stock Phone app smarter, so that it will know which section to display each time you launch it. In addition to its own decision-making power, you can also choose any section as your default Phone display using StartDial. Of course, there are many third-party apps that acts as standalone dialling options (and come with a lot of extra useful features), but having a tweak that customizes the stock Phone app is certainly something a lot of people can use.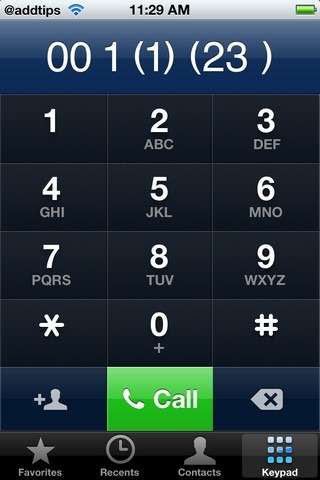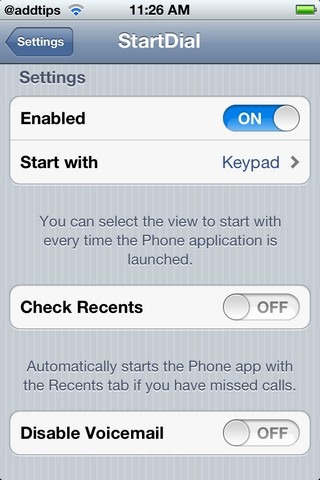 The tweak can be downloaded from the Big Boss repo in Cydia store, and once it has been installed, you can start customizing the Phone app from the Settings app in your device. StartDial will appear in the Extensions tab in Settings. First of all, you will have to make sure that the tweak is Enabled, via the first option present in the menu. You can choose any of the 4 menus as your default Phone.app launch screen, including Favorites, Recents, Contacts and Keypad.
However, as we mentioned earlier, the tweak is smart. This is because there are options like Check Recents in it. If you toggle that setting on, the Recents section will automatically show up every time there have been some missed calls that you have not seen yet.  Also, not a lot of users ever open the Voicemail section in the dialer, and it can prove to be a nuisance while you are trying to dial a number quickly with only one hand, as people keep hitting it mistakenly due to its placement. Due to all these reasons, StartDial has an option titled Disable Voicemail, which makes the Voicemail menu go away completely. Obviously if you often use voicemail, this is a feature of the tweak that you will want to stay away from.
The tweak is free, and with the level of usability it offers, jailbreak users must give StartDial a try. The best thing about the tweak is the customizable options and Settings it offers, as you can choose the functionalities you want to keep while enjoying some really cool new stuff on your iPhone.