Status Via – Share Facebook Status Updates Under Disguise! [Android]
Did you share the news of your brand new BlackBerry with your Facebook friends? Or did you let them know that you've silently switched to an iPhone? Even if you've got none of these, you can still fool your friends into thinking you do! Status Via is a smart little Android app that actually lets you play all these tricks on your Facebook friends by pretending that you are logged into your account from many of the aforementioned services/devices. With Status Via you can update your Facebook status under the guise of as many as 50 different services and/or devices. Status Via is basically a fun app meant for self-satisfaction and playing mind games with others; albeit just momentarily!
A simple status update on Facebook not only conveys your message to your friends but it also carries quite a lot of other information revealing your platform, service and device that is being used. Although faking your location of posting a social update might not be considered as a good practice among your acquaintances, if it's done for the sake of just having some fun, people might not mind it a lot. Status Via lets you update status on Facebook using a platform of your particular liking. For instance, even if you don't have a Blackberry, you can still pretend to post your Facebook status from said device via this app. The interface of the app sports a window that opens your Facebook account and a small little Yes (Or is it now) button at the bottom that contains a comprehensive list of all the included services/devices that can be set to appear as the (fake) source of your status update.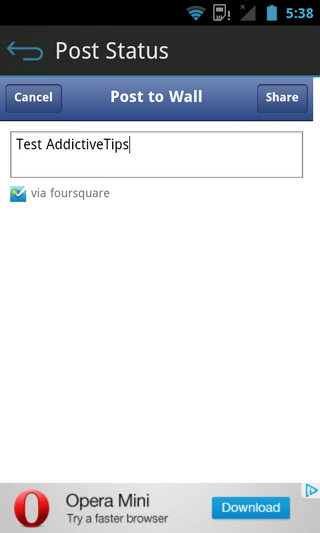 Status Via is available for free on the Android Market and is compatible with most Android devices. Grab your copy of Status Via from the Android Market and start posting your Facebook statuses from Foursquare, Mind Control, NASA Satellite, Palm, Xbox LIVE and many more!
Update: Free version of the app has recently been updated with plenty more added devices/services. Also, interested users can now purchase a Plus (paid) version of Status Via that comes with support for creating your own devices. Market link for the paid version has been added below. It is also worth mentioning here that the app's interface has been totally revamped with ICS goodies.
Download Status Via Free for Android
Download Status Via Plus for Android  (Paid)