StatusBar+ Is A WP7 Style Custom Status Bar For Your Android
Android and iOS users may banter over the superior mobile OS for as long as they want to, but when it comes to aesthetics, you'll find plenty of mobile users who have ample respect and admiration for Windows Phone's Metro UI.  Tired of looking at the same old status bar on your Android? Developed by the Seven+ team – famously known for creating many Windows Phone 7 style apps for Android – StatusBar+ replaces the stock status bar with one that looks like that of Windows Phone 7. It's one of the very few status bar replacement apps out there and is the first one we've come across that replicates the Windows Phone 7 status bar. What's best is that you don't even need to root your device to try StatusBar+. However, it must be noted that StatusBar+ has not been designed to work with the MIUI custom ROM (as of now); a big miss considering the popularity of said custom ROM among most Android users.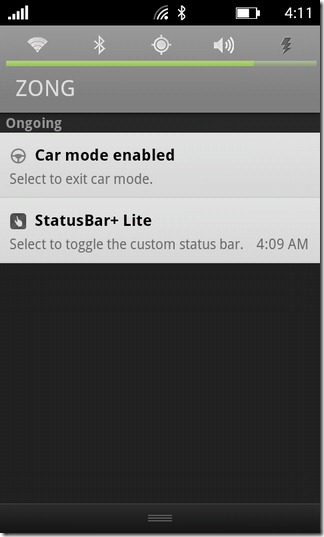 StatusBar+ works fine on both rooted and unrooted devices. It also works equally effectively in both landscape as well as portrait
orientation. Just install the app, tap on its icon and check the Select to toggle the custom status bar option to start enjoying StatusBar+ on your device. Don't panic if you (like me) aren't able to see anything on your status bar other than the clock upon switching to StatusBar+ because other icons are only visible once you tap on the status bar itself.
Since the app is currently in its aplha phase, therefore, it is bound to return a few odd errors and glitches while switching back and forth between the original status bar and StatusBar+. We managed to test Status Bar+ on our HTC Desire Z (running CyanogenMod 7). The free version of the app only provides you with the option to toggle the custom status bar and nothing apart from that (no customization settings whatsoever).
You may try StatusBar+ Lite (free version) by downloading it from the Android Market link provided below. Interested users can also buy StatusBar+ (full version) for a meager price of $1.30 to avail some additional features such as auto-enabling the status bar upon boot, changing background/icon colors, enabling/disabling clicking to drop down status bar icons and much more. Market link to StatusBar+ is also provided below for your convenience.
Download StatusBar+ Lite for Android (Free)
Download StatusBar+ for Android (Paid)