Stop The Music: Remove Active Songs From WP7 Volume Bar & Lock Screen
Windows Phone 7 has a pretty neat, comprehensive Music hub. Especially with Mango, there have been a few positive changes due to the enabling of multitasking in the metro OS. However, whenever you play a song from your library, it keeps showing in the volume bar even after you have stopped playing it. Also, on the lock screen, the music menu stays active until the phone gets rebooted. This is designed for users' convenience, but could become a bit of a nuisance when you accidentally keep hitting the play button while the phone is locked. Using a free new app called Stop The Music, WP7 users can now get rid of the music bar without switching the phone off. That is not all on offer in the Stop the Music app, you can also use it to clear the playlist that is currently running in Zune on your device.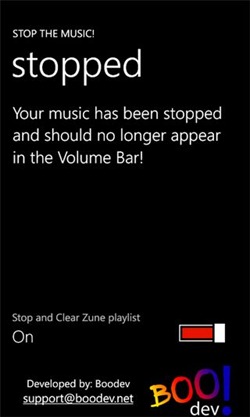 The app is, in fact, more of a tweak and doesn't come cluttered with too many options. You simply have to run it, and after authorization, the music will be cleared. If a song is currently playing, not only will the launch of the app stop it, it will remove the song from the volume menu. Similarly, if no song is playing and there is still some music cached in the volume bar/ lock screen, you can clear all with a simple tap on Stop The Music.
There is one button inside the app, which is sort of redundant, as just launching the app will do the job anyway. The app is, as mentioned above, available for free in the Windows Phone Marketplace. The link below will take you to its Windows Phone Store page.
Download Stop The Music For Windows Phone
Update: The app has come a long way from its initial release, and instead of consisting of just one screen, there is now a separate about and settings screen available in Stop the Music. The settings offered in the app let you change the live tile layout and also comes with Music + Video hub integration, meaning you never even have to launch the app in order to kill the music. A small , but rather attractive feature added to the app is its new and improved live tile that now shows the album art of the last track you killed from the volume bar. This can be helpful in resuming the playback where you left off.