Stream Live Videos To Your Facebook Wall With Strimz [Android & iOS]
The popularity of the social networking behemoth, Facebook, is increasing, and with it the number of relevant web apps is also soaring at an unstoppable pace. Strimz is a Facebook app that, apart from letting you broadcast/stream live video to your Facebook Wall, also records each streaming session, allowing you to replay it later. Each recording is saved in the form of a separate post that can be shared, liked or commented on. If you're a smartphone user, here's some good news for you. Strimz now has iOS and Android clients available on the iTunes App Store and Android Market respectively. Like the web app itself, the mobile client too lets you stream live video from your device's camera to your Facebook Wall.
Although not all that flashy or beefed up with features, Strimz certainly brings a rather fresh idea to the table. The app works in the same way as recently reviewed VTweeIT for Android that allows users to broadcast live video on its very own website, but the big difference here is that Strimz streams videos to the most popular social network on the web. The app is ideal for whenever you're at an event (a concert or a birthday bash, for instance) and want to share a live view of the proceedings with Facebook friends who couldn't make it.
In order to start using Strimz on your device, you need to authorize it to access your Facebook account. Once you're past that, the app takes you to its homescreen from where you can begin streaming by either tapping CLICK TO START or the Go Live button. To modify video settings, tap on the little tools icon in the top-left corner of the app's screen. This screen lets you adjust the Resolution, FPS  (Frames per second) and Quality of video, or switch between Front and Back camera.
You can stream videos for as long as you wish. As mentioned earlier, each video that you stream is recorded and remains saved as a post on your Facebook Wall even after you tap the Stop button.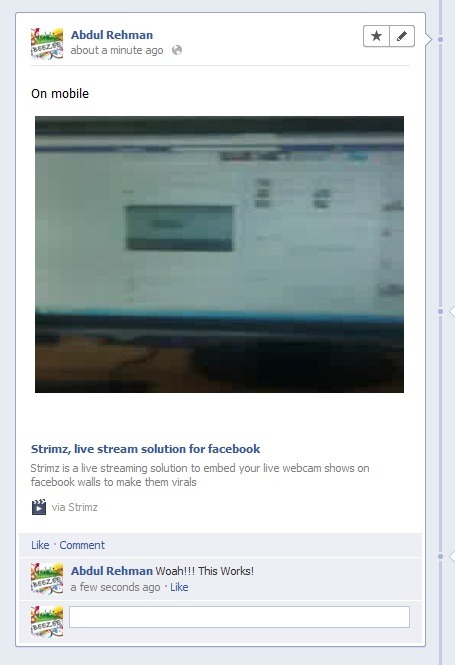 Strimz is available for free on the iTunes App Store and Android Market. It requires Android 2.2 or higher and iOS 4.0 or above to run. Download links to both variants of the app are provided below. Like VTweeIT, the Android version of Strimz also requires Adobe AIR to run.
Download Strimz for iPhone, iPad & iPod touch