Streamzoo: Excellent Instagram Alternative For Media Sharing [Android]
There are a lot of Instagram look-alikes running around on the market these days. Though, not all of these apps have it in themselves to threaten the photo-sharing giant. Streamzoo is an image and video sharing app for Android and iPhone that, along with a functionality similar to that of Instagram, brings a few noteworthy extra features. The app has been around on the iTunes App Store and on the Android Market for quite some time and is slowly but surely accumulating a strong fan-base with its rich set of photo editing and multimedia sharing features. Details, screenshots and download links after the break.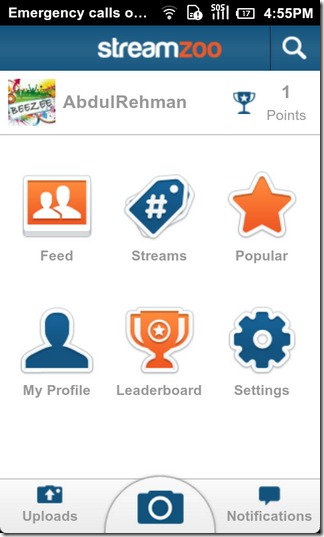 To start sharing content with the whole world via Streamzoo, you simply need to connect with your Facebook/Twitter account. The app opens to a (customizable) home screen to portray a collection of all the popular images shared by the Streamzoo users all over the world. Tap on the app's Home button to launch the dashboard in order to check out all your live feeds, streams, uploads, notifications and other exclusive Streamzoo features such as the Leaderboard.
Sharing content via Streamzoo is fun and easy. Just tap on the camera icon, capture a quick snap/video clip or import a local multimedia file. In case you wish to share a picture, the app lets you apply various filters and borders to your snaps. You can opt from almost a dozen diverse filters for your photos and/or select from fascinating borders, each imparting a unique appearance to your snaps. You may also apply different shapes of the Tilt Shift effect to your photos. In addition, Streamzoo lets you rotate your images and adjust their brightness, hue, saturation and contrast.
Once done with all the editing, just tap Next, add some description to your photos along with relevant tags, choose the networks (Facebook, Twitter and/or Tumblr) to which you wish to sharing your images, opt to add location (or not) and tap Add. The process is the same (minus the editing, of course) for sharing videos. Streamzoo locally saves your edited images in the /sdcard/Streamzoo directory.
Tapping on the Stream icon leads you to the images/videos that are Trending Now all over the world and lets you Follow other users. You can also check Popular and Most Recent snaps/clips from this screen. Just tap on the name of the user to see all his/her uploads. Tap on a photo to like, comment or share  it.
From the My Profile screen, you can view all your Streamzoo uploads, streams, followers, followings, followed streams and your Streamzoo points that eventually help you earn perks and rewards.
On the customization front, the app lets you view all accounts linked with Streamzoo, edit your profile, find/invite friends, enable/disable notifications and modify its home screen. With its power-packed image editing/sharing options, Streamzoo has its sights firmly set on edging past some of the more popular similar apps such as Instagram, Mobli and Color.
Download Streamzoo for Android