Studious: Comprehensive Student Planner With Auto In-Class Sound Profiles [Android]
Given the amount of burden that a modern-day student has to bear, it is only befitting that there should be an app which helps them manage their schoolwork and daily routine in a better way. If the recently reviewed lesson-management app, School Schedule for Android, left students wishing for a similar solution that could provide extended support for all their homework, tests and note-taking needs, then they would be more than happy to learn that Studious fills that void.  Studious is a comprehensive class management app for Android that lets you create your school timetable on your device with customized sound profiles for each class. With Studious, you can also avail plenty of other handy features such as note-taking, homework/test reminders for various classes along with receiving notifications for each and much more.
Not only does Studious take care of the scheduling of all your classes, but its also lends a helping hand to save you form the hassle of manually toggling various sound profiles on your device while moving in and out of lectures. Instead, the app does so automatically and it requires minimum effort to configure these settings. In addition, Studious also ensures that you can easily note down all your schoolwork on your device instead of writing them down on your school diary.
For each class, you can specify its title, days, start/end time, icon, in-class ringer mode (from silent, vibration, flight and ringer mode) and tap Save. Add as many classes for a specific day as required along with all aforementioned details. Once the time for a specific class arrives, the app (if it is activated) silently switches your device to the specified sound profile. You are reminded of the active profile through a status bar notification. Once the class is off, it automatically reverts back to the original profile.
For each added class, you can further add relevant homework, tests and notes and view/edit all added details. Just tap on a class from the app's home screen to launch another screen on which you can find all the buttons just mentioned. To add data pertaining to each button, tap on the plus (+) button on the top-right or simply tap Menu > Add [data]. To delete a class, simply long press on its title and tap Delete.
For each homework you wish to add for a particular class, you can specify its title, description, due date, reminder and any unresolved problems (by tapping the precise problem number on grid). The Add test screen lets you add title, details, date/time and reminder to all your upcoming tests. You have the choice of enabling/disabling the reminder along with specifying the number of days and the exact time of the test.
Similarly, you can support your notes with relevant titles and images. You can add as much data to each class as you like. To make sure that you do not forget all your upcoming schoolwork assignments in a hurry, Studious alerts you through notifications.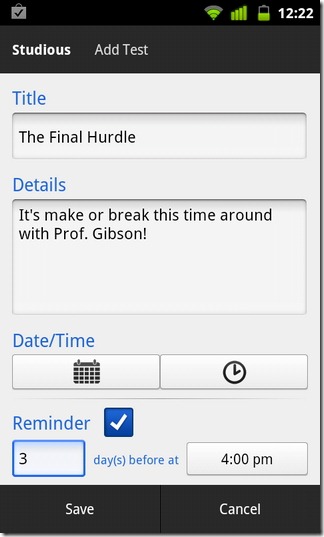 What more can you ask of an app that comes to you absolutely free of cost? Studious is available in the Android Market and it would not be a bad idea to have it on your device for good, especially if you're scheduled to be bombarded with multiple assignments in the coming weeks.