Swerve And Destroy: A Run & Gun Android Game For Fans Of Classic Shooters
If you're looking for a fun-filled game that can be a serious time-killer, then you've probably come to the right place. Swerve And Destroy is a new Android game that will keep you busy for hours (yes and i literally mean it), and is, in my opinion, one the simplest yet most addictive games I have played on my device so far. Based on tilt control mechanics, the game challenges the player to destroy hordes of red little dots while avoiding them all at the same time. More after the break.
Swerve and Destroy has two different gameplay modes, Free Play and Levels, where the latter is only available in the paid version of the game. While the Levels mode gets harder as you progress in the game, Free Play allows you to set difficulty settings of your choice, ranging from Easy to Hard. The player controls a little white dot, representing a person battling against a a horde of zombies, which are shown as red dots. You use power-ups to destroy the zombies, and each power-up holds a unique ability, for example, green power-ups provide an instant shield, while blue power-ups provide a limited amount of shots, and so on.
Even the slightest touch from a red dots eliminates you, so you need to be quick to swerve away from them. The control scheme consists of using the device's tilt functionality to control the position of the dot, while you may occasionally need to tap the screen to use a power-up.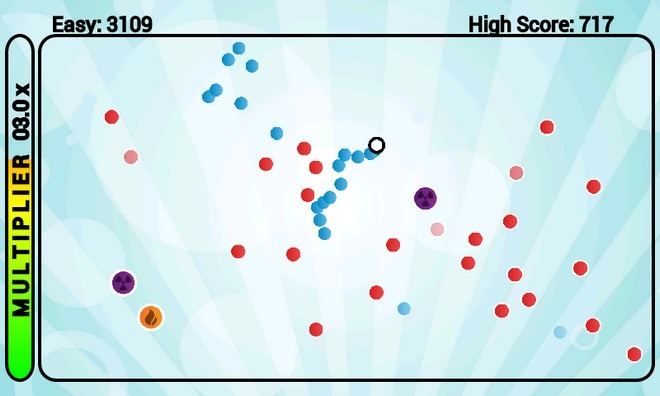 The game itself seems to be presented in a top-down view camera, where your last surviving hero appears to give a serious punch to his enemies. Although the game has a minimalistic design, the smooth animations and pleasing 2D graphics make the whole gaming experience quite enjoyable. With its light-weight design, the game does not seem to require newer devices, and should run fine and without hiccups on most devices – truly a great example of how mobile arcade games should be made.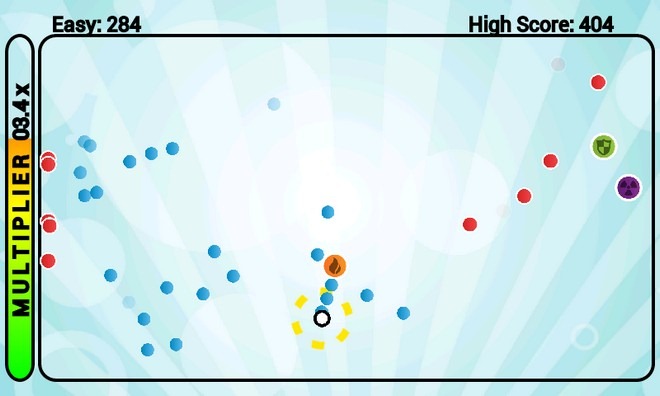 In a nut shell, with high replayablity, a simple design and gameplay that is sure to keep you occupied for a while, Swerve and Destroy definitely deserves a download.
Although the aforementioned Free Play mode should prove to be sufficient for most users, you can always upgrade to full version of the game to unlock the additional gameplay mode if you start getting bored. The game is available for free on the Google Play Store, and you can grab it via the download link provided below.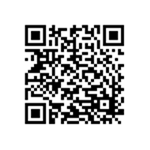 Download Swerve and Destroy