swifText For Android – Faster Text Messaging With Pop-Up Notifications
If you find it bothersome to launch Android's built-in messaging application or to drag down the notification bar every time you need to reply to a received text message, then swifText for Android is a text messaging alternative you might want to consider. The freeware can be set to display pop-up notifications for each received text message in addition to the usual status bar notification and allows you to reply immediately from within said pop-ups, making swifText a faster alternative to the default Android messaging application.
In addition, the application sports a sleeker UI that certain users might prefer over the minimalistic interface of the built-in messaging application. Detailed review of the app to follow.
The primary purpose of swifText, as its name implies, is to make viewing and replying to incoming text messages zippy and painless. The better looking interface is a mere bonus. In fact, it is possible that you might prefer the plain and simple UI of the built-in application, in which case you should let it remain your default messaging application.
If, however, you would rather have better looking message threads and don't mind advertisements then you might want to set swifText as your default messaging application. To do that, simply press the menu button on your device while on the Messaging (Inbox) screen, tap Settings, check the the first option from the top (Use swifText) and in the pop-up that appears, check Use by default for this action and select swifText from the list of displayed messaging applications.
The application also allows you to turn status bar notifications and home screen alerts/pop-ups on and off. So if you simply want a better look for your message threads but would rather not have pop-ups crowding your home screen every time a text message is received, you may uncheck Show Alert from the Settings menu of the application.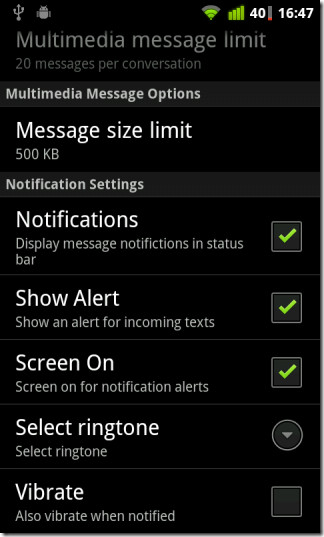 Head on over to the Android Market to get swifText or simply scan the provided QR code.
Download swifText
Update: SifText for Android seems to be no longer available in the Google Play Store. However, if you are looking for an alternative, we have a very handy option for you to try out. If you wish to receive incoming text messages as toast notifications and want to reply to them using various proximity sensor gestures, then our detailed review of toastr might prove to be of ample help for you.