SwipeSwitcher: Swipe On Screen Edges To Switch Between Android Apps
If you've had a chance to get your hands on the Blackberry Playbook, then you must be familiar with its bezel gestures that let users switch between and minimize apps by swiping in from different edges of the screen. Seemingly inspired from said concept, SwipeSwitcher is a free Android app that lets you specify as many as four different apps that can be instantly accessed by swiping left/right on a semi-transparent bars on various sides of the screen. Simply put, swiping on either side of your screen takes you to a different (specified) app. What's even better is that users can opt to either return to the previously opened app or launch any app of their liking by using a simple swipe gesture, anywhere within the OS.
The working of the app is quite similar to Bird Bar, a handy app that forms a region around the edge of the screen that can be used to access the notifications drawer from within full screen apps/games.
With SwipeSwitcher, you can access your favorite apps from either corner/side of your screen, anytime you like. This helps you save substantial time that would otherwise be wasted while navigating to the app drawer or returning to the homescreen to locate and launch a particular app. Even accessing a recently opened app (by long pressing the Home key on your device) can prove to be time-consuming under situations where time is scarce. This is where SwipeSwitcher proves handy, as it provides you the luxury to access your preferred apps from anywhere in the OS.
From the app's main interface, tap the Starting Position button under the Settings menu to enable gesture controls for different edges and specify the app/shortcut for each. Tapping Choose Application lets you decide whether swiping on an edge will open the previously opened app (Pre Application), Installed Applications or Shortcuts.
When you're done picking actions/apps for all your preferred sides, hit the Back button at the bottom and finally, tap the Complete button. This automatically enables the app's background service. You can always disable it later by tapping the Disable SwipeSwitcher button on the app's homescreen.
Tap the Advanced Settings button to change the color and width of the bar/guide on the sides of your screen and to select the Swipe Sensitivity (Low, Normal, High).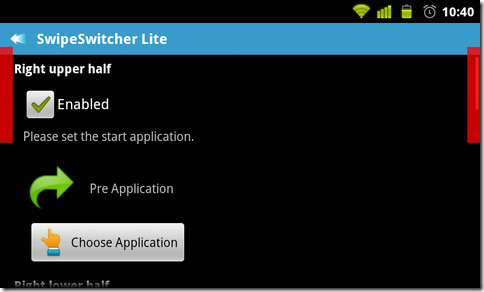 The app supports easy switching between apps in landscape as well as portrait orientation. All in all, SwipeSwitcher is more than a handy tool for users who are looking for a more efficient way of switching between multiple apps to accomplish various tasks.
Download SwipeSwitcher Lite for Android