Taskie Is A Fast, Gesture-Based Task Manager For Android
Taskie is a free application for Android that allows you to exit from and switch between recently opened applications using simple built-in gestures. It provides a highlighted virtual gesture area at the bottom of the screen wherein users can swipe left or right to quickly switch between recent tasks or double-tap to exit from an active task to the homescreen (as per default settings). The application is nothing like Itchhing Thumb, which is basically a launcher add-on that provides a separate interface, or rather, an interface wrapper wherein users can preview, kill and switch between active tasks and launch any application using user-defined gestures. Also, Itching thumb might be more feature-rich in comparison to Taskie but the latter is way faster in usage. That is what Taskie is about – fast access to recent tasks. Read on after the break for more info.
The highlighted gesture area may prove to be a visual and functional hindrance at first. For instance it may register a gesture while you are simply trying to access the icons within the homescreen dock. Although the gesture area occupies the very bottom of the screen, tapping or swiping on it accidentally is quite possible. It needs a little getting use to, to say the least.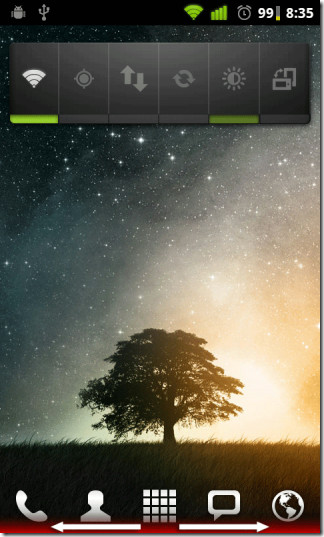 The trick is to hold down briefly while accessing the bottom of the screen. Whenever your finger is within the gesture area, the device will vibrate (as per default settings). If you let go, the task manager will do nothing. Swiping left or right will launch the previous or next task respectively. Double-tapping the area will return you to the homescreen. Also, try using your index finger to input gestures. Thumbs are usually, well, harder to work with where precise gestures are required.
While Taskie sports a great concept, its implementation is far from perfect. The app does try to compensate for this by letting users alter certain aspects of the gesture to suit their needs.
In the free version the application, the aforementioned settings are locked and cannot be altered. That is, you'll have to make do with the default settings. But for a meager price of $0.74, you can get Taskie Unlock, which has no such restrictions. You can grab the free version from the Android Market via the download link or QR code given below.
Update: The developer behind Taskie has released a newer, more feature-rich variant of the app by the name of Dock4Droid. You can read our review of the app here.