TekTrak – Remotely Secure, Call, Text & Trace Your Android Device
In quest to secure your beloved mobile phone, you may find plenty of phone protection apps but most of them don't provide you with an all-in-one solution. TekTrak is an Android app that brings comprehensive device protection and tracking solutions so that you can remotely secure your private information and locate your lost device easily. The iOS client of TekTrak has already had sound impact in the iTunes App Store while the Android client has been launched just recently. With TekTrak client installed on your Android, you can remotely access/secure your lost device from TekTrak website.
TekTrak is light weight, it's effective and it packs some very useful features that can help users secure, trace, call and send messages to their devices remotely. The TekTrak Dashboard on company's website allows you to perform various security-related actions on your device such as:
Remote Locate
Remote Ring
Location History
Remote Wipe
Remote SMS
Geofencing
Remote Lock / Unlock
Remote Wi-Fi Enabling
and MultiLock
When launched, the app asks you to login with your TekTrak ID. Users can visit TekTrak website to signup for a new account. TekTrak also supports in-app registration for user convenience. Once you register with TekTrak services and activate the app on your device, you can remotely access your device form anywhere over WiFi or internet connection.
Remote Locate allows you to locate precise device position by reading its location and displaying it on the map through GPS. Remote Ring option can be availed to find your mobile phone by making a call from TekTrak website. This mechanism works quite efficiently as it enables ringer on devices that are in silent mode. You can also remotely send messages to your device by using Remote SMS option from the website.
Remote Wipe feature of TekTrak offers couple of options . You can either select to factory reset your device or use the Data Wipe feature to permanently remove your personal information from the phone. The app also comes with a facility to display your last known location in case your battery drains out completely to allow further traces. User can set custom check-in frequency (in minutes) from the Settings menu within the app.
If your device is not password protected, TekTrak allows you to remotely lock/unlock your device by using a 4-digit PIN. Likewise, you can remove the PIN from TekTrak website if not required. MultiLock feature is another useful option that can be availed to lock your device with a PIN if an unauthorized user attempts to remove the app.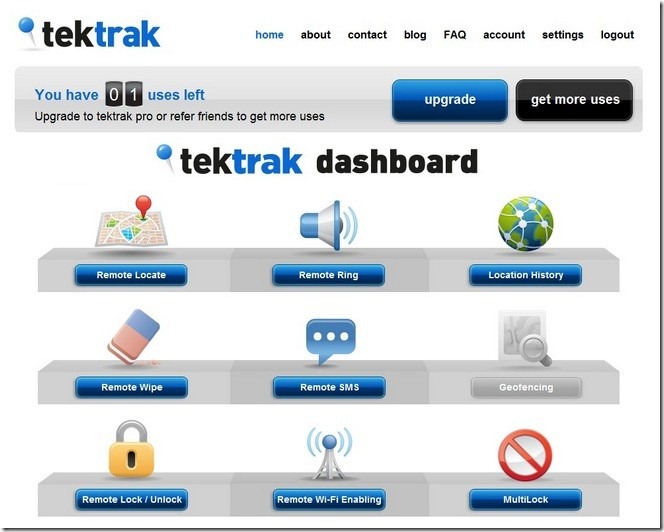 You can use as many TekTrak features as you like in each login session. However, TekTrak Lite allows just two free login sessions. To use TekTrak services more than twice, you can either upgrade to a premium account on their website, purchase TekTrak Pro or refer the app to your friends. You can refer TekTrak to your mail contacts and your Facebook and Twitter friends by using the Refer Friends option within the app. Each successful referral earns you one free use. All-in-all, TekTrak offers some very useful device protection features to Android users so that they never have to worry in case they misplace or lose their phone.
Download TekTrak Lite (Free)
Download TekTrak Pro (Paid)
Update: The app seems to have been removed from the Google Play Store, however, you may check out our through review of a similar app called Plan B – a unique solution to remotely trace your lost Android even if the app is not already installed on the device.