The Official 500px App: Enjoy Photography Wonders On Your iPad
A few days back, we covered ISO500, a third-party client for the popular photo hosting service, 500px. That app was specifically for the iPhone, but what's better than viewing high quality, professionally shot photos on an iPad's 10-inch screen? That's what the official 500px app for the iPad lets you do. Looking at the photos in the app, you are sure to realize that the service has always been perfectly suited to iPad. Read on to know everything about this beautiful app.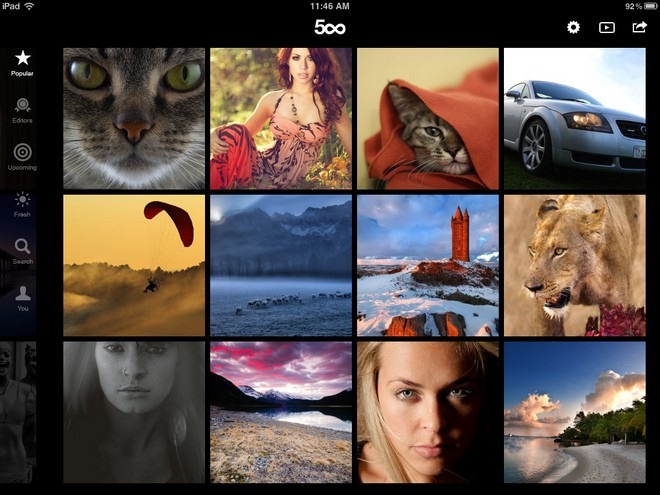 The app follows the basic pattern of the 500px website, with similar layout and sections. From the welcome screen of the app, you can sign up for a new 500px account, or if you already have one, there is the option to log in from there. Facebook login is also available for the service. The photos in the app are neatly categorized into many sections. By default, you will be taken to the Popular feed, listing the most liked entries. Other sections include Editors pick, Upcoming and Fresh. The app comes with a Search menu as well, using which, you can find any kind of photos from the sizeable database of the service.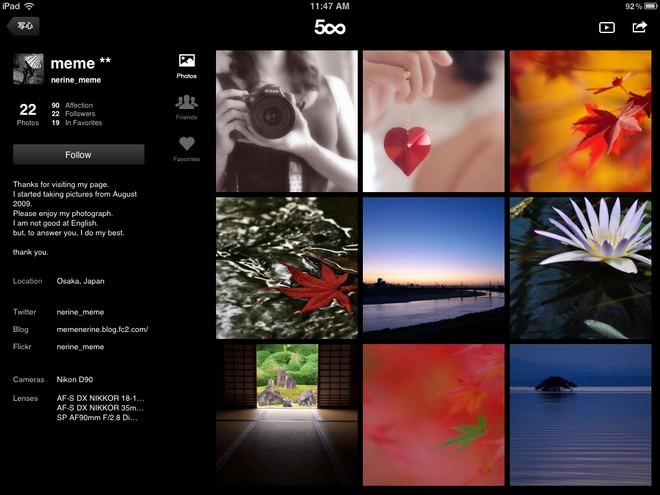 If you have a 500px account, you can make changes to your profile from the app under the You section. All profiles list the photos submitted for public viewing by the user, as well as the information they have provided about themselves. Akin to Twitter, you can follow a particular user by going to their profile and hitting that button. As is possible with photos, you can add whole profiles to your Favorites list. The app can be used to play a Slideshow of any group of photos. The Settings menu lists options related to slideshow viewing, and here, you can edit transition effects applied to photos while a show is in progress. You can also choose the music to be played in the background of a slideshow. The music is loaded from the collection in your iPad's native music library. 500px also sports a content filter, which will keep adult-themed entries out of your feeds.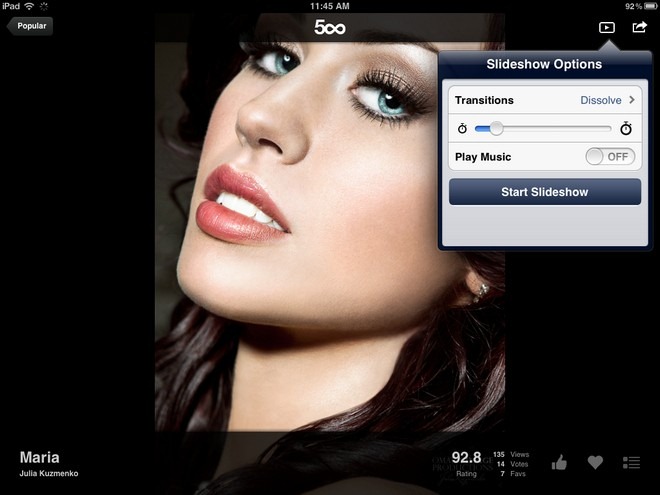 While viewing each photo, you can view its rating, likes, the number of times it has been favored by other users, and all other relevant data. The app can also be used to add comments below photos, and if you really like something, you can share it on a number of forums, including Twitter, Facebook and Tumblr. Of course, the photos can be emailed as well.
If you are photography enthusiast, or would just like to have some seriously amazing wallpapers for your iPad, do give this free app a try.
Update: The Android version of the app can be downloaded from the following link.