The Tennis App: All The Latest Tennis News, Scores & More On Android
We at AddictiveTips love covering sports apps occasionally, and our detailed coverage of the official US Open and Australian Open Tennis Championship apps for Android and iOS are perfect examples of how keenly we follow our tennis. However, those apps were tournament-exclusive. The Tennis App is a free app that has been bringing the latest news, live scores, results, fixtures, player rankings from the entire tennis world to iOS users for quite a while, and is now available in the Android Market as well. Aggregating all the up-to-date content from ATP and WTA, and featuring latest news from some of the biggest news sources, The Tennis App keeps you apprised of news both on and off the tennis field.
From the app's homescreen, you can start browsing Tennis News, Rankings and Scores. News feeds are supplemented by the latest content flowing in from sources the likes of BBC Sports, Tennis Now, Tennis.com, Reuters, EuroSport and Yahoo! Sports. Apart from browsing high-quality image galleries associated with each news story, you can view the news itself in detail by navigating to its original source from within the app.
The Rankings segment of the app comprises latest rankings of tennis players. In this regard, you may explore the ATP or WTA rankings by men's singles, doubles or doubles teams as well as women singles, doubles or WTA Singles Points Race.
While checking player ratings, you can add a player to your favorites to get a list of all the matches that involve your favorite players. The Ranking page itself can be sorted by player name, rank or country.
While on a match screen, you can add that particular game to favorite as well, to access it from within the Scores screen. For each match, you can view tournament details, and a complete set-by-set breakdown of overall scores.
The app's feature-packed Scores section brings you all the latest Tennis info from Live Matches, Latest Results, your Favorite Matches as well as Favorite Players. In addition, it also sorts all the upcoming and recently concluded matches by Tournaments.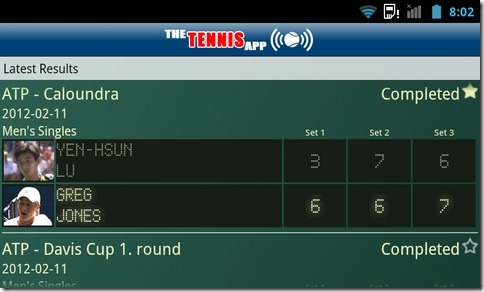 One thing that the Android variant of the app is lacking as of now are video guides containing useful tips and instructions from tennis pros – a feature currently available only to iOS users.
Download The Tennis App for Android