TimeTable Is A Student Planner For Android With A Real Timetable UI
So far, we've reviewed quite a few immensely feature-packed and user-friendly student planners and timetable management apps for Android, with Studious, yasp! and Student Timetable easily being the very best of the entire lot. Despite being aesthetically rich, what most of the aforementioned apps lack is an interface that replicates a virtual timetable with separate rows and columns for all your study days and classes. Fresh to the Android Market, TimeTable is yet another useful addition to the list of student planners that not only fills said void, but also adds a handful of goodies of its own. These include separate timetable views in landscape and portrait orientation to instantly switch between week and day view respectively, option to clone, drag, un/lock, share classes as per requirement, easy management of all lectures on a single day from the same screen, customizable app background, option to add homework under the required class(es), and last but not the least, a couple of widgets that keep you apprised of upcoming classes on daily and/or weekly basis right from the home screen.
Once launched, you can easily start adding your lectures to the timetable by selecting the required day via the navigation keys at the top. Just select the preferred day, long press on the exact time when the lecture would start, and add on the screen that follows, add all the required details including, the teacher name, class location, subject title and color (for easy identification), as well as the ending time for the lecture.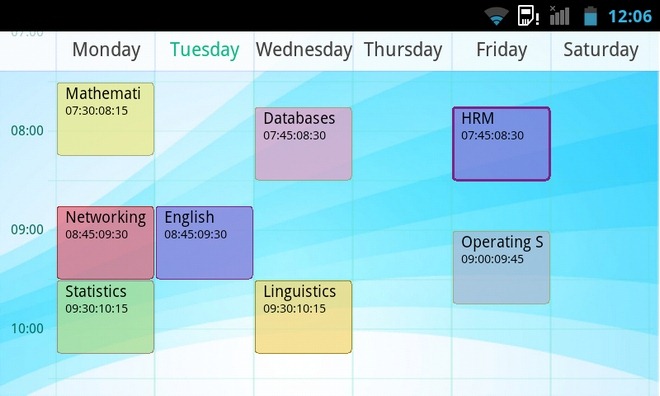 Tapping the Menu button while on the app's homescreen lets you Lock Classes (disables further modification unless unlocked), Send… the timetable to your buddies, access the app's extremely handy Help screen, manage Homework for each subject, or launch the app's Settings screen from where you can select a custom background for your timetable.
Tapping a class from the timetable reveals its brief info such as the lecture title, location, teacher, day, relevant homework(s) (if any), and most importantly, the due time as to when the lecture would begin.
Considering the app is relatively newer to the Market, we can expect the future updates to include further options such as reminders/alarms for classes, automatic sound/alert profile scheduling, and option to sync content across multiple devices etc.
Download TimeTable for Android