Top 10 Reasons To Update To Android 2.2 Froyo
Google Android came in the market as an underdog to iPhone OS but since it's advent it has taken on a steep and smooth growth path. This rapid growth of Android OS can be associated with heavy pat of Google on the back but it was actually the multi-device and hardware compatibility that made it choice among the masses. People might say they are fine with retaining their older versions like 1.6 or 2.1 but this update is a huge one as it addresses most of the burning issues with Android OS.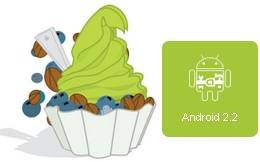 Here are 10 top reasons to why you should update your Android device to 2.2.
TETHERING AND PORTABLE HOT SPOT
Although there is still work needed to completely perfect-ionize this Wi-Fi tethering concept, but still it is an awesome inculcation in this built. The only problem seems to be the security options as only WPA2 PSK was available at the time of compiling this post. Google also mentioned that Wi-Fi tethering will be totally dependent on the decision of carrier to allow or vice versa.
SPEED
With inculcation of the JIT compiler, Google finally has been able to speed up Android. This means that the compiler now allows apps to run at least 2 times to 5 times faster than old versions. Although this complier won't be causing any direct effect on the basic functionality of the OS, but still something is better than nothing.
YOUTUBE HQ STREAMING
Another evident change with this built of Android is YouTube. Although you will have to scroll through bundles of most viewed content, still the player itself now boasts of a HQ button. This button actually acts as the final piece of missing puzzle in YouTube for Android as videos before were automatically scaled down and compromised quality.
FLASH 10.1 SUPPORT AND INTEGRATION
This is the point where Froyo proves to be far better than their iDevice rivals. The flash 10.1 support is something that enables users to visit all flash enabled sites without flaws. Although the pre released beta doesn't seem to be using hardware acceleration but our test of different flash sites prove this ability to be just fine. Flash video streaming capability is also strengthened with this but still you can see a bit of choppiness on the way. There is still some work need to streamline this flash module as battery dumps and heat soar in the cell phones running this version were reported.
ANDROID MARKET AND APPS
Now with this built your apps get auto updates which you can select by marking a checkbox on the apps market page. This was a feature that was being looked forward for in a way is pretty awesome as now you won't have to change the permission setting again and again. The new "Update All" option has also been introduced meaning that not only you can select to update individual apps but bulk up-gradation can also now take place. The app space consumption has also been well addressed by Google as they have given an alternative by making the app storage on SD card (Apps2SD) native feature in Froyo.
IMPROVED CLOUD APIs
Google has also fine tuned their cloud APIs in this release of Android. Now the all new push notification API can send data and also process a 2 way sync. Google actually used a chrome extension that transmits URL to a synchronized Android device. All Android developers looking to take advantage of this cool feature will have to update their apps.
HOME SCREEN IMPROVEMENTS
Users will now be able to find the dialer and browser button on the bottom of Android 2.2's home screen right beside the app launcher.
WIDGET ENHANCEMENTS
There are 2 brand new widgets introduced in this built. First one is the tutorial widget that comprehensively guides new users on operations and procedures of the phone. The second one is the market widget that allows the users to rotate through different featured apps. The search widget (bar on the home screen top) is now pretty much universal. You can use this option to run a general search query or to find your phone's local data like contacts, pictures etc.
ENTERPRISE SUPPORT
The built in Microsoft Exchange support is now much better than 2.1 and older builds. Auto0discovery and calendar sync are now a part of Android as well.
All in all, upgrading your Android device to 2.2 seems to be a fairly great idea and these 10 reasons are compelling enough to upgrade your device now. Visit Android to see if your device can be upgraded to Froyo.