Song Exporter Pro: Transfer iPhone & iPod Touch Songs To Your Computer Over WiFi Without iTunes
If you are new to iOS, using iTunes can prove to be a nightmare. There are a host of errors you might run into, or you might accidentally lose some of your data in the name of "syncing", if your device has ever been associated with another computer and iTunes library. Even if you do manage to tame the wild beast that is iTunes, it still won't let you extract and transfer to your computer, the music that is already on your iPhone, iPod touch or iPad. There are many apps and services that let users do just about anything to bypass iTunes, and Song Exporter Pro is one such useful app. If you have a lot of songs on your iPhone, iPad or iPod touch, this app will let you download them to your computer, given that both devices are on the same WiFi network. What's even better, is that you can do this on any computer, irrespective of OS, drivers or in the absence of iTunes, since all transfers are handled through the browser. This is as simple as it gets. More past the break.
To transfer or stream songs from your iDevice to the PC, make sure that both are on the same WiFi network, and then launch Song Exporter Pro on the phone. Now, press the big musical note in the middle of the screen, and select the songs you want to transfer to your computer. It is also possible to select all tracks in one go via the first option in the list. Once the songs have been chosen, tap the Done button in the top right corner. Next, the app will present you with an IP address. Simply enter that on your computer's browser.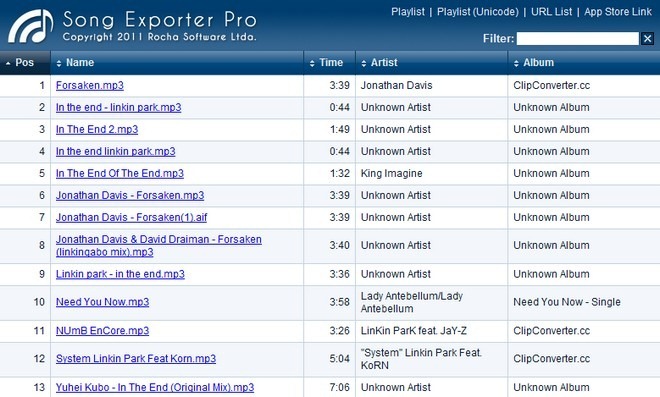 As soon as you hit Enter after keying-in the IP in the address bar, it will bring up a neat list of all the songs in your iPhone that you had selected in Song Exporter. From there, you can stream the tracks within your PC's browser, or download them to your computer. The song list displayed in the browser can be sorted on the basis of Name, Time, Artist or Album. It is also possible to filter out songs according to any specific keyword. If you are security-conscious, you can set a password for access tothe music library. To do that, go to the Song Exporter Pro app, and in the Settings menu of the app, enable the Authentication toggle. Once you have done that, configure a username and password, and anyone wishing to access your phone's music library on their web browser will have to input a new username and password.
Song Exporter will work with all iOS devices, although the interface is optimized for iPhone and iPod touch only. For a limited, you can grab Song Exporter Pro for free by heading to the link below.