TypeSmart: Customizable Keyboard With Next Word Prediction [Android]
TypeSmart (beta) is a handy keyboard replacement app for your Android that comes with some of the most sought-after and easy to use keyboard features to make typing fast, fun and convenient. TypeSmart, through its elegant, user-friendly and customizable keyboard layout, a dedicated top row for numbers, an extended keyboard (with added signs, arrows, symbols and Dingbats etc.), Text-To-Speech (TTS) input and a plethora of most commonly used keyboard features, helps you input text to your messages/messenger, notes, browser and any text field for that matter, in quick and intelligent way. 
Custom keyboard replacement apps are aplenty on the Market (some paid, some free) and it can be hard to pick a personal favorite from the entire collection; or at least the one with all (if not most of) the best features. While apps like Swype are literally sweeping other alternatives off their feet, there are still a few users who'd rather prefer convention over fashion. This is where TypeSmart could come in handy.
Like we just mentioned above, TypeSmart has all the essential features that are found in most custom keyboard replacement apps these days like real-time word prediction and spell checker/corrector, multi-lingual support (including translations), TTS, next word prediction based on what you've typed last, custom profiles and auto spacing etc. The above mentioned features of TypeSmart, when combined with its current price ($0), make it a worthy contender to be tried out at least once.
After you get past the downloading/installation process of TypeSmart, just ensure that you have said keyboard selected as your default one. For this, you need to navigate to Menu > Settings and select TypeSmart BETA under the Keyboard settings menu.
Once enabled, you can use the app's interface to access its settings screen where you'll find miscellaneous settings such as language, keyboard layout (from QWERTY, AZERTY or T9) and currency symbol, custom keyboard profiles (create a new one using an existing profile), auto-capitalization, Smart Spaces (to automatically add spaces after a completed word), word predictions, auto correction and other settings. Then there are various settings to modify the keyboard's layout/interface. You may select a custom background image (or select one from app's native wallpapers) and a theme for your keyboard (with transparency level of your choice). You can also adjust the height of keys according to your preference.
To access TypeSmart's extended keyboard layout, long press on the 123 key. Your screen should now be displaying a rather prolonged list of keys/symbols; some commonly used while others, not so. You can scroll up/down on this list to access various keys for smileys, currency, dingbats (special characters/pictorials), business, arrows, Mathematics and more under their respective menu.
During a brief test of TypeSmart on our HTC Desire Z, the app stubbornly refused to respond to our voice commands and showed up with a Force Close message each time said feature was accessed. Such malfunctions can only be deemed as perfectly normal for an app that is currently in beta.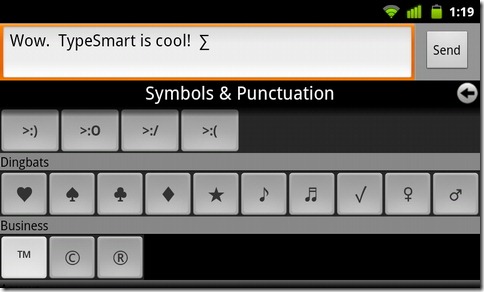 Hopefully, the full version of the app will not only be free of any errors and glitches but would also add other handy features that could see TypeSmart emerge as a worthy candidate for being the default keyboard on your device.
Download TypeSmart (Beta) for Android