Unfold Technology News Is A Stylish Tech RSS Reader For Android
News readers for Android are available in abundance, but finding a solution based specifically around news bits from the fast-moving world of technology has never been an easy task. Fresh to the scene, Unfold Technology News is here to help. The app is a content-rich tech news reader for Android that supports fetching latest technology content from numerous blogs, websites and other onlinesources, and presents it on your device's screen through a stylish interface. The Android Market is the first mobile/smartphone app store to get a taste of Unfold Technology News, however, it won't be too long before the app is released for iOS, Kindle and Nook as well. Using the app, you can easily explore all the latest happenings in the world of technology via informative articles, supplemented with multimedia and share the best content with your Facebook or Twitter friends and mail contacts.
The app gathers all the latest technology news from several popular online resources, saving you from the hassle of going through multiple websites manually. Thankfully, the app does not require you to set up any fresh accounts or log in with some service. While on the app's homescreen, just swipe left/right to switch between various news sources. Tap on a topic of interest to explore it in detail. While reading an article, you can hit the toggle in the top-right corner to quickly switch between the reader and web mode. You also have the option to resize the article text as per your convenience. All sharing options are arranged at the bottom of this screen.
Although Unfold Technology News is definitely worth a download, with other handy and user-friendly alternate news reading apps such as APPY Geek, FLUD, Currently Tech News et al already available in the Market, it doesn't seem to pose any immediate threat to any of the aforementioned. However, as with any new entrant, Unfold Technology can be expected to improve considerably on its list of features in the coming updates.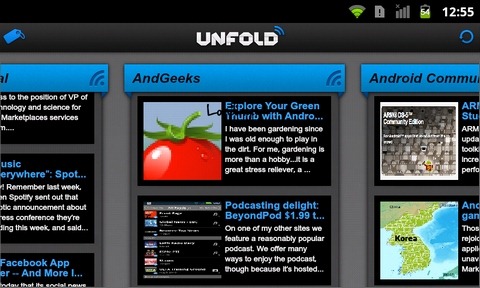 The biggest hurdle for the app in its way up the list of news readers is its own interface, which is too overloaded with content for most devices to handle. We managed to test the app on a couple of different devices, only to find it too heavy to properly run or load content on either. The end result; frequent Force Close errors and Wait messages.
Note: You must have Adobe AIR installed on your device for the app to run.
Download Unfold Technology News for Android