Unlock Xperia X10 Bootloader With A Single Click [Unlock Tool]
Sony Ericsson became the first Android manufacturer to offer free bootloader unlocking service via a web portal. This was later followed by HTC and after Motorola's takeover by Google, we believe that unlocked bootloaders will be offered by Moto as well. Although unlocking bootloaders through web application has been opted for by many users, but there are still some who want it to happen quickly and from the comfort of their desktop. Senior XDA member and Android developer, Mayazcherquoi, has developed a one click Sony Ericsson Xepria X10 bootloader unlock tool that does the unlocking job with a single click.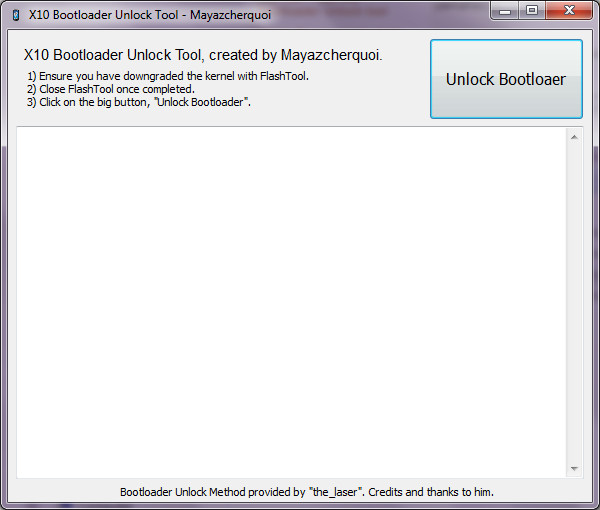 The application is basically a simple user friendly front-end of the_laser's Xperia X10 bootloader unlocking tool. According to the tool developer, the utility has been specifically developed for people who don't like command prompt black backgrounds and are "lazy" enough to try the online unlocking method available from Sony Ericsson. The source code of this application isn't available for now but the developer will release it once he further optimizes the app.
This is what developer has to say about this bootloader unlocking utility:
This is simply a graphical front end to the_laser's Windows batch files, with the added questions to prevent accidental device bricking.

Can I use this without having to downgrade to 2.1?
Yes, but make sure you follow 9Lukas5's guide here. Just disregard the third bullet point and use my program instead

How hard is it to use?
Not hard at all. Just click the big "Unlock Bootloader"* button

What is the point of this?
For people who don't like black backgrounds and white texts, but feel more comfortable with GUIs

Will you release the source code?
Now? No. In time, yes. Why not now? This is just a quickly developed application and the code is rather embarrassing at the moment

Do you plan to further develop this program?
Indeed I do. I plan to make it a nicer GUI, implement automatic kernel flashing (for those who use 2.3.x), and much more robust. As aforementioned, this is simply a quick mock-up.
In order to use this One Click X10 bootloader unlocking tool, you will need to downgrade the kernel using Flashtool. Once you have managed to downgrade the kernel, simple connect your phone to the computer and execute X10 Bootloader Unlock tool. Now click on Unlock Bootloader button in the utility and sit back and relax while it does the job for you.
You can download and get complete instructions, FAQs and support from the official utility thread posted here.  Please note that this utility is only intended for unlocking Xperia X10 bootloaders and must not be experimented with other X10 variants.