Unstuck For iPad: Your Virtual Mentor For When The Going Gets Tough
Often in the middle of an exhaustive and critical project, we find ourselves stuck in a seemingly unsolvable problem. Whether you are refurbishing your entire house or launching a million dollar project, a time comes when you feel like putting a fist through the wall. Unstuck is a unique new app for iPad that helps you clear your mind in such situations; it helps you chart down all the factors responsible for getting you stuck in the middle of a major project, analyzes the scenario, suggests a solution and even helps you draft out a plan to execute it. It's like your very own portable mentor.
You can log in to the app with your Facebook account. Unstuck welcomes you with a How are you feeling in this stuck moment? Tap the arrowhead to start analyzing yourself. From within screen that follows, you can Pick 3 Cards from the many that are displayed. Each cards holds a factor that could be holding you back from getting your work done. Next, you have to choose the type of stuck (Personal, Professional or Both) and who is involved with you in the project (just you, one other or many others). You can explain your reason for being stuck by writing a little about it to Unstuck. You can also browse through the app's built-in flashcards to see if some of the problems from the cards match yours. You can then pick three things that you think are further hindering your progress.
.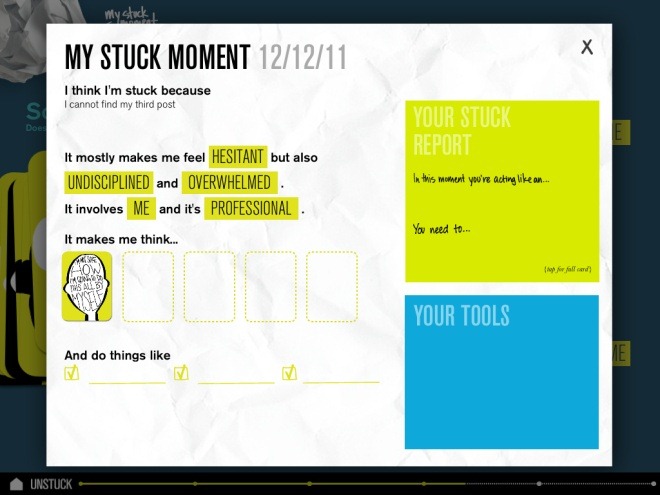 Tap the crumpled paper at the top left of the screen at any time during the analysis to see what factors Unstuck thinks might be causing problems for you. You will also see an overview of all the Unstuck tools you've used so far in this screen.
Once you are done entering all the reasons that could be hindering your work, Unstuck analyzes your entered information and tells you the percentage of people who fall in the same category as you, including some celebrities and famous leaders. It tells you what you ought to do next to get things moving again, and what you need to stay away from to avoid being stuck again.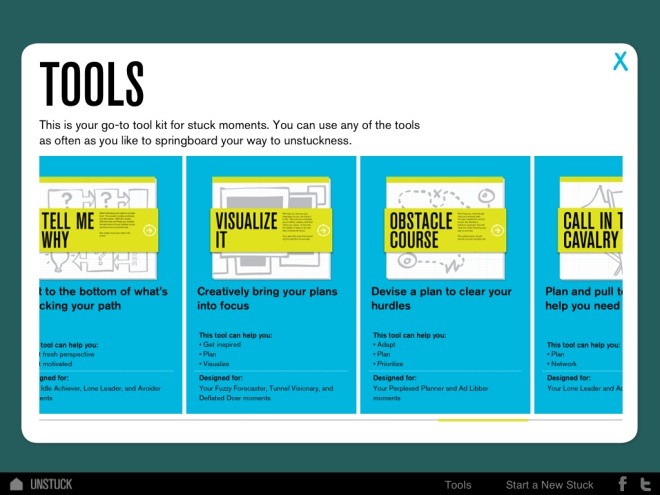 Unstuck then walks you through a step-by-step goal setting tool, which helps you decide your plan, its deadline and whether you have help to execute it or Unstuck should provide it for you. It is a great way to take a look evaluate ourselves and get us moving on the right track. Unstuck is available for free in the App Store. Download it from the link provided below.