Use Your iPhone As a Mic For External Speakers With VonBruno Microphone
It is always good to see apps which can turn your iOS device into something completely new. A few days ago we covered Snap Rule, which is useful if you wanted to use your iPhone, iPad or iPod touch as a ruler for measuring length. There are many other apps which let you replace even more complex devices than rulers. VonBruno Microphone is one such app, using which you can plug in your iDevice to any sound system and then use your phone as a microphone. The app is designed keeping in mind that you will be using your iDevice as a mic, so it can be controlled without having to look at your screen, and completely through gestures. Don't confuse VonBruno Microphone with some simple recording app, as this app plays all the sounds in real time.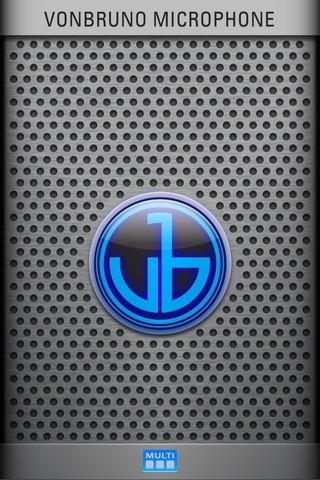 VonBruno Microphone has got just one screen, and all the functions of the app are performed through it. You will see that there are just two buttons in the app. The main button, located at the center of the screen, is the one which can be used to toggle the mic on and off. Using the much smaller Multi button in the bottom bar users can let the app run in the background. Before you hit any of these buttons, make sure that your device is plugged into a speaker or any other device which can play audio.
The microphone in the app works pretty well, and has no perceivable lag. If the Multi button is pressed and you exit the app, it will keep working until you kill the app or play audio from any other app. In this state, a red banner will keep showing up at the top of the screen and you can navigate to the by simply touching it. VonBruno Microphone is available as a free download for a very limited time, so waste no time in grabbing such a useful app.
Download VonBruno Microphone for iOS
 Update: VonBruno Microphone has become even more awesome than before thanks to its latest update. Now you can use the app even more effortlessly and without having to look at the device screen. If you want to adjust the volume of the mic, just swipe upwards and everything will become louder, while swiping in the opposite direction will reduce the volume. To make things even more convenient, you will be shown a volume HUD while adjusting the sound level.