Video Time Machine: Watch Videos From The 1800s To The Present [iOS]
Most of us know which is the most viewed video on YouTube, but have you ever wondered which one is the oldest footage which you can view on the popular video hosting service? Even if you haven't, we think you will be interested in the fun little iPhone/ iPad app named Video Time Machine. The app is pretty simple on the surface, but you can spend hours of fun if you like watching random YouTube videos. The app will let you watch videos based on the year they were originally shot in. This might not sound like too much fun for recent videos, but wait till you find out the time range covered by this app. Video Time Machine features videos from 1896 to 2011! Of course, video cameras weren't around in the late 1800s, but the videos available from that era are actually collections of photos. The app also supports category filters, making it it perfect for some random video browsing.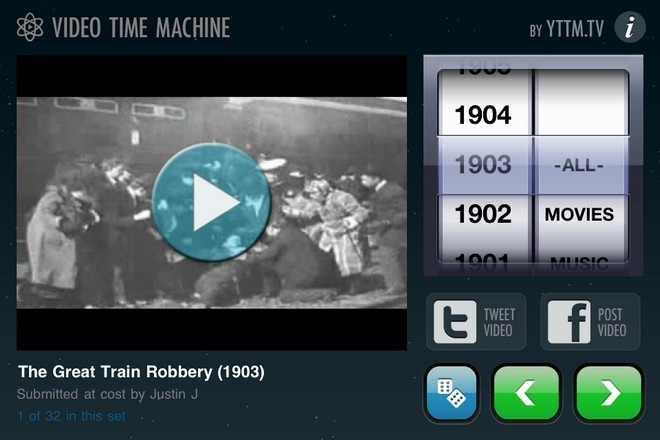 Video Time Machine is a universal app, with versions for both iPhone/ iPod touch and iPad. On all devices, it works only in landscape mode. The current video is featured to the left of the screen, while the year it belongs too, along with the genre, is listed to the right. You can travel to any year by browsing through the left-hand bar, and then specifying the desired video category. If you just want to view any random video from a year, hit the randomize button located at the bottom right of the screen. To move through videos in a given year there are the green arrow buttons, and you can also swipe through the current video in the player to change it.
The sharing options offered by Video Time Machine include Facebook and Twitter, with both having their dedicated buttons. The app can be downloaded for free for a limited time, so waste no time in going to the link below and grab it now.
Download Video Time Machine for iOS
Update: As the Video Time Machine app works only in  landscape mode, it makes sense that an iPad-optimized version of the app has also been released now. The app is pretty much the same on its tablet version, and you won't have any difficulty in mastering the controls. In addition to that, the limited time offer is over, and you will have to spend $2.99 to purchase the app.