vlock: An Elegant Video Clock For Your Docked iPhone, iPod touch & iPad
Have you ever used your iPhone or iPod touch in a dock? It's a wonderful solution for showroom displays, parties, events, and even looks cool simply sitting on your desktop. That said, what would you want to be displayed on the screen of your device for such a scenario? If you own an iPad, iOS allows you to run a slideshow of the pictures from Photos app, but not everyone would be comfortable with that, and also, this slideshow remains exclusive to iPad, leaving iPhone and iPod touch owners behind. vlock is an answer, brining an elegantly designed video clock on your iDevice. Read past the jump for details.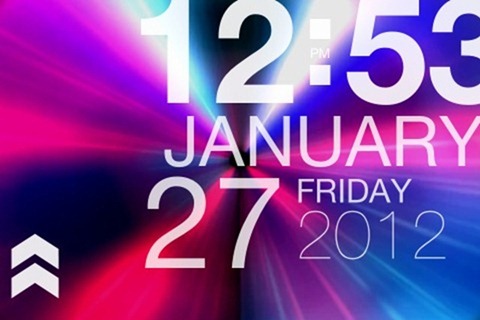 I've always appreciated Android devices' clock app, especially the Samsung variant of it, which provides a beautiful on-screen display ideal for a docked device (I even use that on my Android tablet when it's sitting on my desk). vlock iOS app takes this concept one step further, and alongside displaying the current date, time and day on the screen, it can preview any video from your device's memory, or from its own library, in the background, allowing you to play movies, music videos, podcasts, album videos etc, on the clock.
Before we go deeper into the app, allow me to clarify that vlock is, in no way, a lock screen replacement. Although the app provides an 'unlock' slider, using it will merely take you to vlock's settings, and the only means to quit vlock is what you'd opt for with any other app, i.e., press the home button on your device. That clarified, vlock looks really beautiful, especially on the newer iDevices with retina displays. When you launch the app, the default video is loaded, with the clock splashed atop.
By default, vlock comes with only one video, which is preloaded and available for free. Rest of the library can be populated through Store, which offers various video packs costing $0.99 each. The first screen you encounter is the Video Playlist, and you may add or remove apps using the Add and Delete buttons in the bottom bar, respectively. Tapping the Add button will pull up a new screen, giving you the freedom to add videos from your albums, stored videos and the aforementioned Store. Just select a video, hit Add, and tap Done when you're finished. Multiple videos may be added, resulting in a video playlist for the clock background, which will then be played with transitions and loops.
The cog wheel at the bottom-left of the main interface gives access to vlock's setting, and has toggles for transitions, muting videos, dimming the video upon tapping (useful for night time), showing clock, and the unlock sound. You may also share your time over Twitter or Facebook from within the app. At the top, there is a music menu which will let you choose background music for your videos, and works with playlists only, importing them from your iPhone, iPod touch or iPad's music library. If you do choose any background music for vlock, I'd advise toggling Mute Videos to 'on' for the perfect experience.
vlock is a neat and beautiful app, especially if you're used to dock your device for any reason. It can even double as an elegant alarm clock on your bedside at night (that, I tried myself), and will definitely make your device stand out on any display. The app supports landscape orientation as well, and definitely stands out on a retina display more than others.
Not all good things in life are free, and same holds true with vlock. This app will set you back by $0.99, and will work on iPhone, iPod touch and iPad running iOS 5.0 or later. The best part is, in case this small price tag ticks you off, we're giving away promo codes for vlock to 5 lucky readers, the details for which can be found below.
Giveaway
We are giving away 5 promo codes to our readers. The giveaway will only last for 24 hours. Participation in the giveaway is simple. You need to either follow us at @addtips and tweet the giveaway (leave the link of the tweet in comments below), or leave a comment on our Facebook page. We will pick out 5 winners randomly!
Update: The giveaway is closed. Winners shall be contacted soon!
Update 2: Promo codes have been sent to the winners