Vodio Is A Beautiful, Customizable Video Magazine For iPhone & iPad
In terms of having an intuitive and beautiful interface, iPad news apps never cease to amaze. Almost every other magazine for iOS can boast of having a refreshingly new design, but Vodio is an app which takes things a step further. Not only is it endowed with good looks, it also lets you stay in touch with the latest happenings in numerous fields, by taking a look at videos from all over the web. You can think of Vodio as a news app that features videos instead of written articles in its arsenal. It has all the customization options and filters of a news app, but the convenience and thoroughness of a video search engine. The app can also act as your main social sharing hub, thanks to the awesome array of video sharing options it has on offer.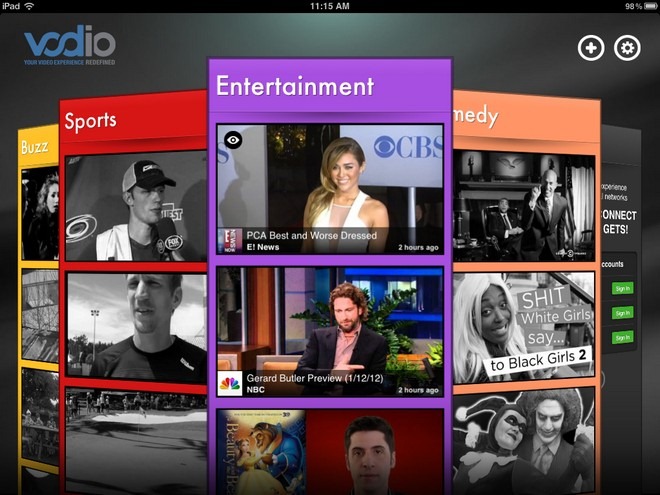 Using the app is pretty simple. Once everything has finished loading, you will be given a graphical tutorial on usage of Vodio. There aren't a lot of buttons, and the app does a pretty good job of explaining everything in detail. A few categories of videos are added in Vodio by default, and you can start browsing through them straight away. To look at videos within a category, you have to scroll vertically, while horizontal scroll will change the channel altogether. If you want, you can add or remove any channel by hitting the '+' button in the top right corner. Vodio also brings a touch of social networking to the mix, and you can link your Facebook, Twitter and YouTube accounts with it if you want.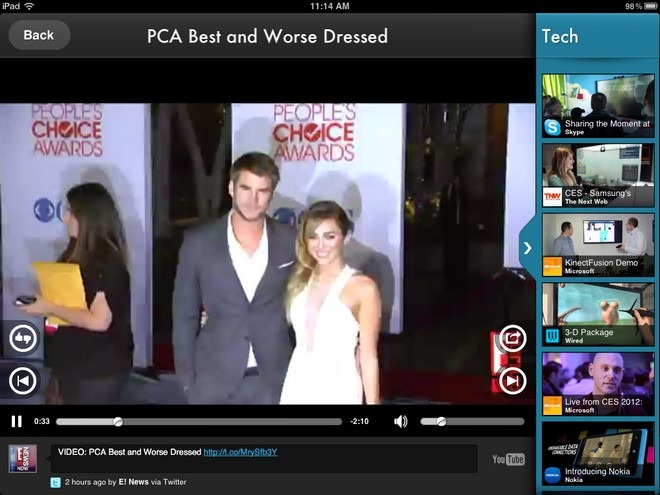 Once a video is played in Vodio, there are a lot of options which come with it. Sharing it across multiple networks is as easy as tapping the Share button, and choosing the services to which you want to publish it. You can also leave your comments and likes for a video, if you have linked your accounts with the app. In video play mode, you can still browse through different channels by invoking the side bar, which is possible by tapping the blue arrow to the right.
For free, you just have to give Vodio a try if you own an iPad, as the navigation method used in the app is pretty unique.
Update: Vodio now supports push notifications for categories of your interest. The app will display a message each time a new video is added to a category you follow.
Update 2: Vodio is now available for the iPhone as well.