Web Browser ESP: Simultaneously Browse Multiple Websites On Android
New to the Google Play Store, Web Browser ESP is an innovative Android web browser that lets users simultaneously explore multiple websites; all on the same screen. To achieve said purpose, the app lets you open as many individual panels on its homescreen interface as you prefer. Each panel serves as a separate browser window that you can avail to access and browse your favorite website. Apart from said feature, the app also boasts a few additional options that further enhance your web browsing experience on Android, especially if you own a tablet. For instance, you can keep adding new panels horizontally and/or vertically to explore various webpages as per their respective page dimensions. Then there is the option to expand, shrink and re-position a specific panel on the screen as per requirement. Each panel supports the conventional pinch-to-zoom gesture to allow you to zoom in/out of webpages conveniently. That's not all; you can also bookmark your favorite webpages on the go. Don't want to clutter your screen with too many 'panels'? No worries. Although the app does not support the tabbed browsing feature, it lets you add multiple 'sliding' panels alongside the currently opened panel. Each sliding panel can be used to open a desired website. Swiping left/right from the edges of a sliding panel helps you easily switch between various slides (browser windows).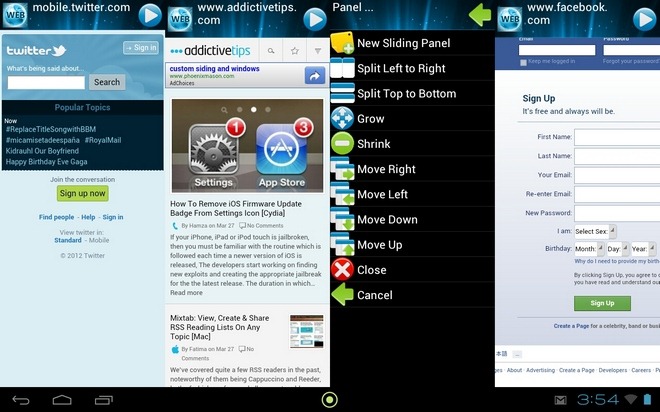 Web Browser ESP might not be all that visually rich, but it certainly takes your web browsing experience on Android to a new level by allowing you to browse multiple websites on the very same screen. Using the app is quite simple, too.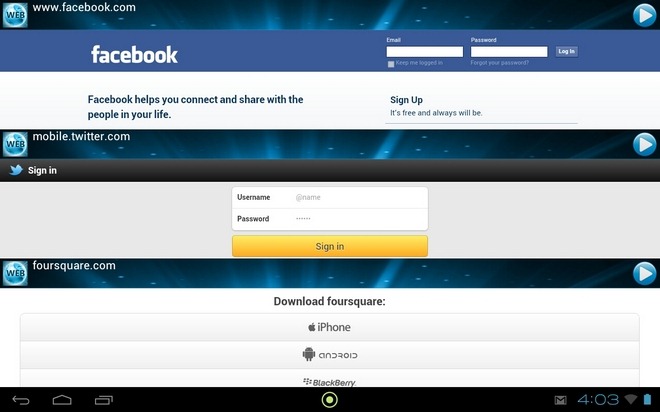 All you need to do is tap the blue play button at the top-right of the panel/window to launch the main menu that carries the option to go back to the previous webpage, reload a URL, bookmark the currently opened webpage and the most important of them all, reveal the advanced panel menu.
The Panel menu comprises the following options:
New Sliding Panel: To open a new sliding panel alongside the current panel
Split Left to Right: Splits the current panel by opening a new panel to its left-hand side
Split Top to Bottom: Splits the current panel by opening a new panel towards the bottom side
Grow/Shrink: To expand/condense the current panel size
Move Up/Down/Left/Right: To reposition the current panel
Close: To close the currently opened panel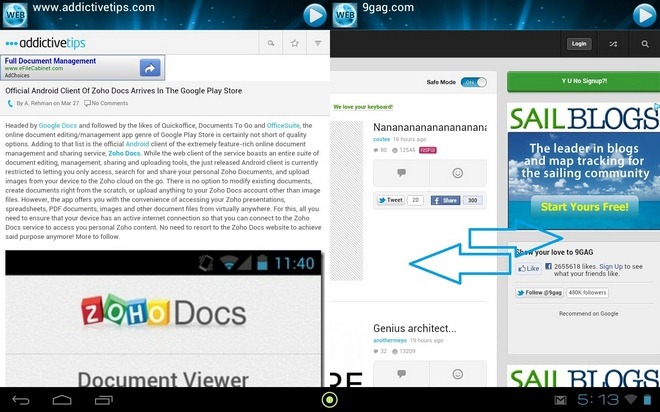 Apart from a few odd glitches while loading specific webpages, the app serves the purpose of simultaneous multi-panel web browsing quite commendably. All it needs now is a bit of polishing in terms of aesthetics, and bettering the supported features to attract the users. In addition, the support for real-time search suggestions, in-page searching, private browsing and other conventional browser features, if added to the mix, would do Web Browser ESP a world of good. Still, with all the handy features that the app has on offer, one can assume that it would prove to be mighty helpful for a large contingent of users, especially all you hardcore web surfers.
Download Web Browser ESP for Android