Wifi Syncr – Sync Files From Computer To Android Device Over WiFi
In our quest for apps, we've found several on the Android Market that let you remotely upload/sync files from your Android device to your computer (Sweet Home, for instance). Today, we found an app that reciprocates said function. New to the Market, Wifi Syncr is a free, easy-to-use tool that establishes a one-way sync from your computer to your device over a shared WiFi network. More specifically, the app remotely downloads files from a user-defined shared directory on your computer to one on the SD card of your device. And unlike most of the device-to-computer apps that we've come across so far, Wifi Syncr has proved to be the easiest to set up. More after the break.
The app lets you create multiple sync Profiles, each of which can be set to download from/sync with a separate shared folder and/or a different computer on the WiFi network. You can sync profiles one at a time by tapping each and selecting the Sync option from the context menu that appears, or all at once by tapping the sync button in the task bar at the top.
To add a profile, simply select Menu > Add or tap the add button at the top-right of the screen, then
Enter a name of your choice for the profile.
Tap Configure Sync.
Enter the name or IP address of your computer. For computers running Windows 7, right-click on Computer, select Properties. Enter whatever's displayed under Full computer name into the Server / IP field within the app. To view the network / IP address of your computer, open your network connections panel from the system tray, right-click on the WiFi network and select Status > Details. The address you require is the value of IPv4 address.
Select a folder of your choice from the shared directories that the app displays.
As mentioned before, the app creates a one-way sync from computer to device. Any alterations you make to downloaded files on your Android device will not be reflected in the selected shared directory of your computer. You can, however, set the app to sync file deletion, that is, delete files from your device that have been removed from the shared directory.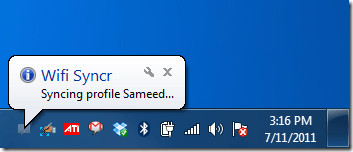 The app even comes packed with support for Remote Notifier (for displaying sync notifications on your computer) and Astro File Manager (for opening the sync directory on your SD card directly from within the app by tapping on a profile and selecting Folder info from its context menu).
Remember, your computer and Android device must be connected to the same WiFi network for the app to work. Download the app for free from the Android Market via the provided link or QR code.

Download Wifi Syncr