Wireless Manager: Call Forwarding, Call Waiting & APN Editing For Samsung WP7 Devices
The Samsung-exclusive section of the Windows Phone Marketplace, Samsung Zone, has always been quite active, but with the second wave of WP7 phones making its way to the market, looks like Samsung is focusing on newer devices only. Proof to that assertion is the newly released Wireless Manager app, which was pushed out to the Samsung Zone only for latest Samsung WP7 phones. The app is pretty simple, and honestly, there is not much for owners of older devices to get jealous about. The users of Focus and Omnia 7 have already got the nifty, little Network Profile app. Wireless Manager performs essentially the same task, but with some extra focus on APN and some other value added services. You can do most of that stuff from your SIM settings, but it is nice to have an app that lets you handle everything in a more streamlined manner.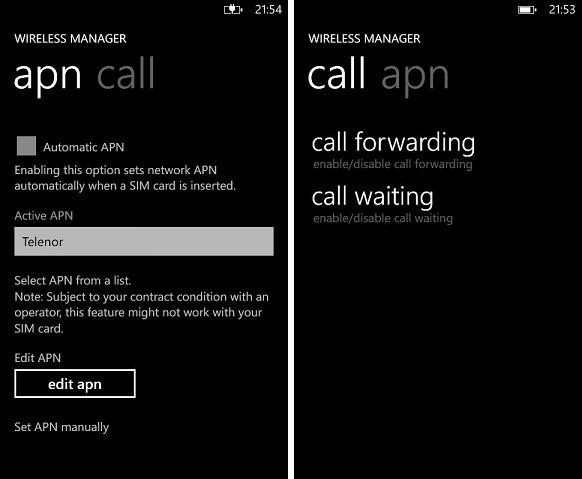 As already discussed, the app is pretty much like the Network Profile app for first generation Samsung Windows Phones, but with some added functions. There are two sections in Wireless Manager. One is APN and the other deals with Calls.
The options offered by Wireless Manager are usually offered from most carriers by default, but using this app, you can enjoy all those services for free. The services it offers include Call forwarding and Call waiting.
Getting MMS and GPRS on WP7 has always been tricky and that's why you might need to tinker with the APN settings to achieve that. The metro OS doesn't have a built-in option to customize and change APN settings, but you can edit APN with Wireless Manager. There is no guarantee that the app will work wholly for you, as some carriers like to keep a firm grip over APN settings, thus making any changes to them incompatible with a lot of SIM cards. The call waiting and forwarding features might not work for some people, too.
If you have a Samsung Windows Phone device, you can download the app for free from the Samsung Zone. Wireless Manage might not be useful for everyone, but if your carrier charges a small fortune for even the smallest of value added services, then the app can come in handy for saving a few bucks. However, if you really wanted to tinker with APN, but own a first generation Samsung phone, then the Wireless Manager app is sure to spell disappointment for you.