Yahoo! Play For Android – Identify Songs, Make Playlists By Mood
After launching AppSpot, a mobile app discovery client for Android and iOS and App Search, a mobile app search engine to go along with it, Yahoo! has now released a music app for Android. Play by Yahoo! Music automatically arranges all your songs by artists, albums, songs, allows you to create and manage playlists, includes a music identification feature similar to the one found in Shazam and SoundHound, the option to browse the latest news for artists and a new Smart Shuffle option.
Yahoo! seems to be determined to make it big in the world of mobile apps. But as comments on the freshly released Play suggest, the company is going have a tough time doing that (they be trollin'). We, one the other hand, didn't think the app was bad at all. Barring the fact that it doesn't allow you to seek within songs, the app is, overall, a good package – great interface and quite a few handy additional features. As can be seen from the left screenshot above, the app's main interface is void of any needless features, menus or options. Instead, it is pretty straightforward, as it instantly lets you explore the Library, Shuffle tracks, or Identify the track that you are currently listening to. More details on each feature to follow.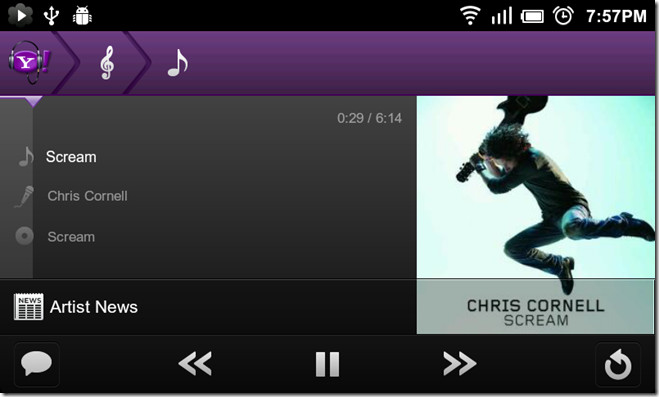 At first launch, the app was quick to download album arts for almost every song on our test device – even for songs not registered by any music cataloguing websites. From within the music player interface (Library > Select song), you can let your friends know what song you're currently listening to and browse news regarding the currently playing song's artist. From the Shuffle screen, you can access the aforementioned Smart Shuffle feature and with a single tap, create a playlist of songs randomly selected from your collectiion (Random Shuffle) or songs similar to the one currently being played (Play Songs Similar To…). Smart Shuffle automatically creates a playlist based on the type of songs that you've recently been listening to.
The Identify feature, very much like the one found in Shazam and SoundHound, listens/records a song being played in your surroundings and identifies it using online sources, which in this case, should be Yahoo! Music.
All in all, Play by Yahoo! Music seems all set to impress music loving Android fans, especially those based in regions where several similar services cannot be accessed.