Yahoo's TV Show Discovery App IntoNow Released For iPad
IntoNow is Yahoo's popular TV-related service which not only allows users to get all the information about TV showa of their choice but also lets them interact with friends or fellow fans while watching a particular TV show. The official client of IntoNow has been around for iPhone and Android for some time now (read our review of IntoNow for Android) and now, an iPad version of the app has been released to the App Store.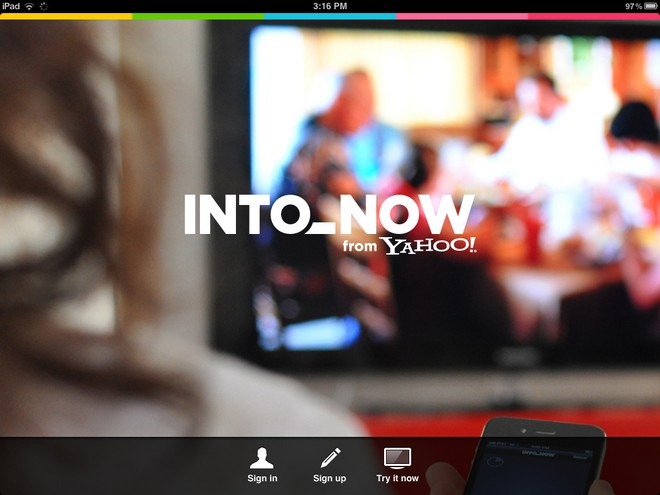 Without creating an IntoNow account, you can still get some info about all the shows being aired currently. Before signing up for an account, you can hit Try it now, which will demonstrate the app's ability to listen for your TV's sound and detect whatever show you are currently watching. Using the account you signed up for, you can add friends from Facebook and other networks to IntoNow. This will allow you to share shows with your friends and have discussions in real-time while a certain show is going on.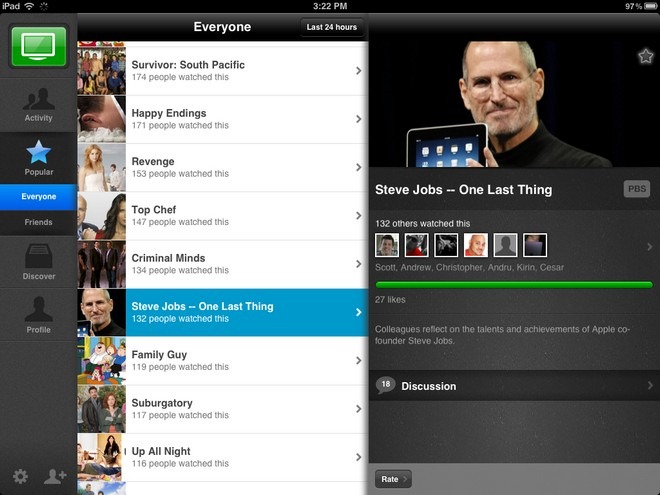 But chatting with your own contacts while a show is going on is not the primary purpose of IntoNow. The app lets you choose a show and see how many other people are watching it with you. Additionally, you can view details of shows that are going on right now, were aired within the last 24 hours or other time frames. For most shows, the app provides trailers and IMDB reviews as well.
The iPad version of IntoNow is not at all any different from its iPhone counterpart, but it's always nice to have an iPad-dedicated version of such useful apps.