YouSpin: Capture & Share High Quality Panoramas & 360 Views [Android, iOS]
Say hello to YouSpin – one of the simplest ways to create 360 degree panoramas or 3D views of virtually anything using your Android or iOS-powered device's camera. Whether you're a professional photographer or just a novice user, using the app's simple interface, you can easily develop and share high quality 360 degree views of yourself as well as any object of your liking in a matter of seconds. The best part about YouSpin is its user-friendly and self-explanatory graphical interface that guides you through the entire process. The app provides you with the option to snap images in portrait as well as landscape orientation, and specify the total amount of shots that would make the panorama. In addition, the app also supports a timer mode, complete with shutter sound effects, to help you with capturing your own 360 degree views without requiring help from a second person.
The app greets you with a brief introductory video, and then takes you to its homescreen, from where you may start creating 3D views. To help you understand the capturing process, the app's homescreen explains the key steps involved along with an illustration for each.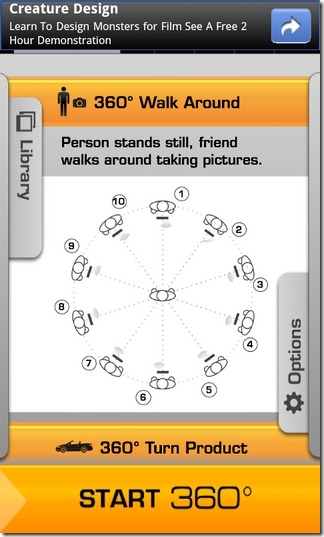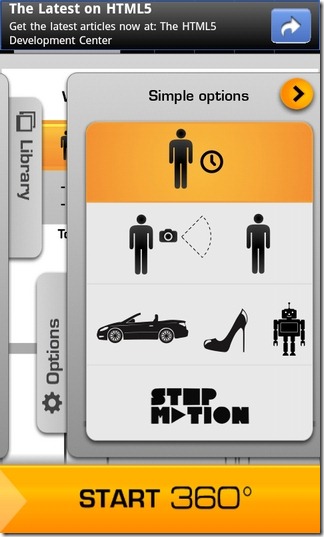 While on the app's homescreen, tap Options to pick a capturing mode from under the Simple options menu. Tapping the arrow sign at the top-right reveals the advanced menu screen, from where you can select the number of shots (10 or infinity), grid type, auto-timer, image orientation (landscape/portrait) and turn flash on or off.
Once all the required settings are in place, hit the Start 360 button at the bottom to start creating the panoramic image/3D view. The app's image capturing interface comprises a viewfinder, a grid overlay and a preview of the total number of shots taken. Once the first image has been captured, the app helps you with all subsequent shots via several audio effects and on-screen suggestions. All you need to do is keep the device as well as the object steady till the final image is captured.
Once that is done, you can view and share the result within the built-in gallery. The app automatically uploads each created 'spin' to the YouSpin website, from where you may decide whether to keep it publicly available or not.
YouSpin has a free (ad-supported) and a $2 (ad-free) variant available in the Android Market and iTunes App Store.
Download YouSpin Lite for Android (Free)
Download YouSpin Pro for Android (Paid)
Download YouSpin Lite for iOS (Free)
Download YouSpin Pro for iOS (Paid)